Served So Raw From Miami
The organizers meet the disorganized. Thanks to
Danny and Nicole and So Raw
for everything!
Welcome back, all. I trust you were all satiated when I posted
my account of San Francisco's most delicious
sights and sounds and wacky adventures of a lad gone stoned a few months back. I would hope you've come back starving however, for it's now time to reverse polarity and attempt to document my latest whirlwind thrill ride through the sunny and seamy shores of America's closest foreign destination: Miami, Florida.
For those who have never been to Miami, it's not like the rest of Florida. Instead of NASCAR and theme parks, Miami offers a glimpse of a glittering steamy world that is better signified with slip-on deck shoes rather than a redneck's bandana. And no matter what the city had to offer, Rot Shit was quite agreeable to accepting the challenge and playing the So Raw Festival in June of 2009. If you haven't
gotten hip to us by now
, some blog put up both our out of print 7-inches, so
feel free to go get 'em
.
Being the forward thinker that I am, I decided to stay for a week instead of a weekend. Why not? When you're playing a gig (or in this case a festival) you have to run around, deal with inner workings and machinations of the other people in your band (who in this case are America's stupidest band, myself included), meet everyone in a whirlwind of handshakes and partying in the span of 48 hours, and then go home a wreck and who needs that? Luckily I had Danny from
Melted Sunglasses
to make my trip the perfect introduction to the Bizarro Pittsburgh; and he shall go down forever in the annals of Great Dudes in History for showing me what was probably the best time of my life. For starters, as soon as I exited the plane and stepped into the Ft. Lauderdale sun, I was met by Danny on the curb and beers were shotgunned in the whip posthaste. It's nothing to say that my expectations were met right there within the first hour. Danny then decided to blow my mind even further by bringing my now-drunken stomach one of the savoriest treats in the Cuban culinary lexicon:
El Rey de las Fritas
.
A frita is a Cuban sandwich that is made up of ground chorizo and (I think) some beef. It's mixed in with spices and tomato sauce and then topped with shoestring potatoes. This was kind of a mind-blower because back when I was a young lad and the folks used to load Lil' Suzz and I up in the car to drive to DC we would usually have a couple sandwiches for the drive prepared and my mom would always purchase a can of shoestring potato sticks in lieu of potato chips. The memories I have of trying to get the obstinate grease off of my hands tickled the back of my brain for a second before I dove in and I have no problem telling you lovely readers that this sandwich will tantalize any sense you choose to throw at it.
The first night after Danny and I took in a Guinness or two on the street I got to begin to meet most everyone and I learned the following: A) I am old. B) Every girl in Miami is beautiful. C) The Miami lifestyle is quite different and I was up to the challenge to adapt. D) See ya white girls. While hanging at Sarah's house, baby found some smoke and Sarah and Amanda were making tiramisu.
We hit up Fox's Sherron Inn after that which is basically Miami's punk dive bar and I got to get a glimpse or two of the local punx/kids. The service was awful, the bar packed, and the air humid so we mostly just drank in the parking lot next to the bar which seems to be de riguer in the land of expensive Yuenglings. Hi ladies.
After that the rain began to fall (as it does every day in Miami... sounds familiar) and we headed off to
Mary's Coin Laundry
. I know that sentence seems strange at first, but I was hipped to the fact that Mary's is not only a laundromat, but also a deli/sandwich shop/smoothie bar... and it's open after 3 AM... and it is delicious.
After we all regrouped I found a large gaggle of us just lazily hanging out in the small outdoor seating area, and after Tony V. pulled down the awnings for what seemed to be the first in the establishment's history we were ensconced in a private booth on the street and able to listen to the rain and chill out. I was fairly drunk and pretty tired but I did my best to soldier through. I also got to eat some dishes I have never experienced before, like my first beef empanada, perhaps a bizarro cousin to our humble pierogi back home.
Victor commanded that I eat a choripan sub and I'm always happy to indulge him. Choripan was probably the best-tasting meat of the trip, and the revelation was much like when I discovered milanesa in Oakland, CA. Choripan is another chorizo based sandwich that comes on a crusty sub roll and tastes like a firecracker of deliciousness. I forgot to take a picture of my sandwich but I just stole a picture of another one that would have been better quality anyways (I didn't take out my real camera [and I forgot to borrow Lil' Suzz's GOOD camera] till Day 2 and the iPhone has done nothing but bum me out with its inferior image capabilities, especially for a gent on the go with a food website like myself). It's nothing. Much love to Mary's. Will eat again.
Danny made me some mate, too. Love first time food/drink experiences. Best guy.
From here on out I did not stop partying for the next five days so I am surprised I could even eat let alone anything remember to take pictures of it. But as the actual festival draws nearer and nearer down the page the coverage will get intense, so please bear with me and don't be upset because you're not getting what YOU want from ME. I'm trying my best here.
The next day I got to go to the only Tex-Mex in Miami that is worth a damn (this came from the mouths of the locals) at Taco Rico. I was advised to order the fish tacos by Danny and I took him up on it and made three new friends who I quickly murdered and cannibalized.
As I said in my last post,
Negra Modelo
with a lime has become my beer of choice when I'm not throwing money around like a horny sailor and now I am sure the guys at Gooski's are bummed that I order this during a packed Saturday night gig, but hey. I suppose this brings me to another point. Another bizarro point of contention between Miami and the Steel City: kids in Miami can seriously pound booze, and if they had their choice I'm sure they would drink the Pittsburgh Brewing Company dry on the same cheap beer that powers our parties. There is no time in Miami for your fancy IPA's or stouts or whatever. People want to get drunk and get drunk NOW and they do not care how it happens. I was in no position to argue, so from there on out it was High Life, Modelo, Budweiser, and all the rest I remember from my youthful indiscretions. Beer was cheap and it was hot so here we are. Happy dude here:
From what I have gathered, Miami is definitely a bumpin' city with 5.4 million residents and plenty of stuff to do, but the only game in town for real rock n' roll is the small cadre of local bands that are made up of the same group of kids, and surprise surprise, that's who I was hanging out with. Miami's most known exports right now (both of whom have LP's coming out on
Florida's Dying
really soon - pick 'em up!) are the
Jacuzzi Boys
and
Electric Bunnies
(who were kind enough to actually make it up to Pittsburgh to play Totally Wired Fest back in April) and So Raw set out to showcase what else Miami's scene had to offer. Over the next couple of days we kicked it around town and raged, and eventually Friday night rolled up on us and we finally got to check out the So Raw venue at the
Ism Gallery
. I was pretty anxious to see some live jams and my juices really got flowing when Electric Bunnies took the stage. Here's Victor:
When Electric Bunnies first 7" came out I picked it up. While hearing the 45's gives you a decent enough introduction to the band, I have seen them excel much further in the longform, meaning I have enjoyed their two live sets immensely and I am quite interested in seeing where their upcoming full-length will take them. It's strange that the band presents such a low-key fuzzy beach pop image when in actuality there is a psychedelic charge hidden so far under their preconceived sheen. The songs have more room to breath and expand when the band stretches out and they were in fine form during this particular gig. There's rumors of a tour coming up, but I won't spoil any surprises.
"Nobody takes pictures of the drummer" according to a shitty metalcore band.
In addition to the Bunnies that night, Eric (Bunnies and Melted Sunglasses lead guitar player) was playing
TeePee
songs with a full band. Having only heard his "Wooden Noise" tape before my turntable unfortunately met its untimely demise, I wasn't sure what exactly to expect. When I was driving to the beach with Christina and Rene to pick up Solange we were listening to CDR's in the car and Christina said "This song is awesome, you need to listen to it." Well, it was indeed awesome and is indeed included on the upcoming TeePee full length that Eric is putting out and if you head over to the
TeePee Myspace
you can check out this exquisite bedroom pop number called "I Told You So". After we listened to it about three times in a row between sprinkles of the rest of the TeePee full-length I immediately told Eric when I saw him that I was hoping to hear that song at the gig and sure enough he delivered. While I missed the first improv half of his set running around with Drugula's dumb ass (who had gotten wasted enough to forget his PIN number... good Lord) I made it back in time for the second half when Eric was slamming out my request.
TeePee seems to be a musical lynchpin of the Miami scene due to his involvement in multiple projects and his multi-instrumental/multi-genre-spanning talent. While I usually don't have a lot of good things to say about mining the comforters and dust ruffles of America's bedrooms, I find the TeePee songs to stand above most of his contemporaries due to the sheer volume of influences and styles TeePee experiments with. Anything ranging from the dissonant slop guitar workouts of the later
Scientists
to the narcotic nudges of
Spacemen 3
to the dreamy and hyper-sexual sounds of French synth-wave becomes grist for the mill in my ears and the creative spark that drives TeePee can ignite that pile when it all melds together.
TeePee has 7"s out on
Weird Hug
and
Hozac
right now and a debut LP on the way by winter-time. Don't be an idiot.
Not soon after Vinnie and BD Biz fell on the PA and busted it that first evening, leaving
the Yolks
soldiering on and singing out of a harmonica microphone and giving the kids what they want (thanks Lauren for the photo), we headed over to the penthouse on the beach (not kidding) that Manny and Danny had obtained for us for some righteous debauchery and the beds were soon covered with vomit, babes, booze, illicit substances, and a whole lot of Natural Light courtesy of Eric.
Pink Reason
immediately became null and void due to overconsumption and the party raged on till the fuzz showed up and gave everyone the boot. I don't remember TOO much but it was a pretty great time and we had another gig and another late night to look forward to coming up. And with that, baby went to the beach.
Rene and Christina and Solange and I had rolled over to Miami Beach earlier that day. I'll level with you readers here. I've never really been a beach guy. When I was around six or seven my family went on our last vacation together to Rehoboth Beach in Delaware. While that may now be the burgeoning gay vacation mecca of the mid-Atlantic these days, all I remember back then was getting knocked over by dipshits on boogie boards every fifteen minutes and nearly being dragged under the water by the undertow. Couple that with seventeen or eighteen years of being overweight and out of shape and pretty soon you haven't taken your shirt off in public for five years or so. But thanks to the bike and the yoga mat I decided to strut my stuff and actually expose my skin to the sunlight and let me tell you - one soak in the warm and inviting water of Miami Beach is enough to slough off any hangover, heartbreak, or nagging worry that may attempt to tether itself to your mind. I swam out past the crowd and into the deep water and floated on my back over the waves until I couldn't hear anything anymore. Perfection.
After that, we headed off to get some grub at
David's Cafe
down along the beach. Here Christina and Solange got some enticing milkshakes.
I opted for my first Cuban sandwich of the trip, and I must say aside from the slightly higher beachfront price tag, I was not disappointed in the least. I got the regular Cuban and whomever was sitting next to me got the Media Noche (which is basically the same thing only served on Cuban sweetbread, which is yellow and fucking delicious. Here is my Cuban:
Here is my reaction to its deliciousness:
Here's the Media Noche. See how the bread is yellow? That's Cuban sweet bread. They serve baskets of this stuff, too. I must say, it opened my eyes.
After the meal, Solange got us some Cuban coffee which was enough to raise your hair on end with how powerful it is. I had about four shots and was ready to rip phone books in half, so think espresso concentrated with even more sugar and you'd be getting close. I can definitely see how this could keep you up till 5 AM without blinking. Two out-of-town members of the entourage REFUSED Cuban coffee in Miami. I won't mention any names but these two dinks were thereafter regarded as complete morons (and a little rude if you ask me). Who travels to another city/state/country/culture and then doesn't sample an integral part of the cuisine? Bah. Anyway, I'd like to thank the girls and Rene for rolling me out there because the beach trip had me jazzed to hop onstage and throw down later that night. While I am probably hopping back and forth on the space-time continuum due to being out of my mind for a week straight, there was a day show at the Upper East Side Garden. I guess it was pretty tough for most people in Miami to be outside before 1 PM but the show went on and I checked out the two bands who played
Little Beard
and
Fluffy Lumbers
.
I didn't really know what to expect from Little Beard. Sarah and Nicole are in this band and I planted myself next to the "stage" to check them out and I'll be damned if I didn't hear some delightful indie pop with some Korg or Moog or Floog or whatever people who don't want to play a piano play. Sarah has a fine voice, the band a tight rhythm section, and the songs were upbeat and snappy. While this isn't my normal cup of tea, I could see them actually doing something with the right push in the right direction. The two guys and two ladies make for a cute-looking young foursome that actually has some musical chops and could get kids moving were they not walking zombies from the night before.
Fluffy Lumbers played next and honestly I didn't really care because I was probably thinking about
NEANDERTHAL
and looking at girls at the gig. I threw my drink at the singer's head during a lull in the set and apparently made disgusted faces every time I heard a change I didn't like and so what? What are you gonna do? Call a cop? Take me to jail! Weird Hug has put out their first record. Weird Hug are my dudes. YOU make the call. Here is a picture of Alex who did play some noodly yet tasteful lixxx which I could appreciate since no one wanted to listen to the
Grateful Dead
with me except Manny.
Oh yeah, I am beginning to remember the timeline a little more clearly now. After we awoke at the penthouse, and before the gig at UEG, we piled into Eric's work van with no windows and a bucket full of hats. Drugula and I both donned one and we decided to eat something else. The last time I'd been in Florida (Orlando to be exact) I was taken by my friend Natalie to their grocery chain
Publix
and I ordered a sub. In the back of my mind I always remembered that fresh and inviting smell of their bread, the Boar's Head meats and indulgent condiments they used, and the toppings that snap in your mouth with all the flavor of a farmer's market. So I told everyone "Yo, we should go get sandwiches." Publix never disappoints.
Wylie and Drugula stepped it up a notch by ordering the chicken finger sub.
Kevin and Vinnie split a box of chicken, I decided to go the healthy route and grabbed a tuna salad spinach wrap, a banana, and a blended health beverage made up of numerous green fruits and veggies. It can't be all bad all the time. Sometimes you have to listen to your body. Look, a handsome gent.
Here's another Bizarro Pittsburgh twist for you. Most folks in town, especially the ones who work in Downtown Pittsburgh know
Franktuary
(whose dogs have made an appearance or two on 7-Inch Slam before). Speaking of which, here's the bratwurst I wrecked from there last week: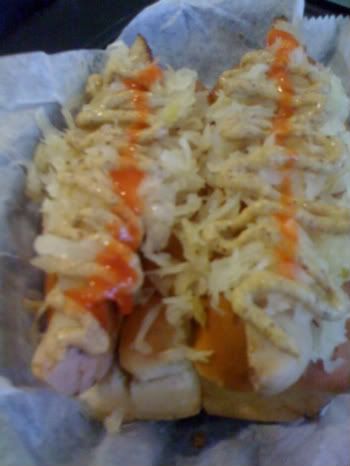 Anyway, Tony and Elena were driving me over to Rene and Manny's for a pool party or maybe even to the gig or something, I don't know! But they stopped to grab some grub at none other than the spot that caused Franktuary to christen (I kill me) itself its current name after some hefty legal wrangling.
The Dogma Grill
. Seems their use of the word "dogma" caused a lawsuit and Pittsburgh's Hot Dogma (the better name by far) had to change their name even though the respective restaurants are 17 hours away from each other and honestly how many yinzers are going to be strutting around Miami that aren't already Pittsburgh Steelers getting their dongs polished by tanned fake-breasted starfuckers? Riddle me that! Dogma did have some pretty tasty chili cheese fries that I sampled, though.
The Sedona Dog. From the menu: "Homemade spicy salsa, grilled bacon, fresh sliced avocado, sour cream, diced tomatoes, and vinaigrette". AKA: Fuck you, Franktuary.
So now we're here. Saturday Night. Game time.
ROT SHIT
has to deliver. But first there were some other bands to hop onstage at ISM Gallery like Couchfaces with Nicole and Sarah T. and Tony and Danny, some acoustic act that played because someone died in their band or something (I can't remember anything about the conversation I had with the dude while i was waiting for a beer), and basically just a whole lot of nonsense since there were cancellations and lineup shufflings to attend to. Of course, I'm sure everyone knows what was coming up: the man with the plan, bringing you nothing less than the razzle, the dazzle, the agony, and the ecstasy of
Brian's Dirty Business
or as we refer to it: "motherfuckin' BD Biz". Check his onstage harem:
One song. Six times? Did you like the slow version? The fast version? The mid-tempo rocker? What does it matter? It's all a party, man. The kids shook it up and had a blast watching this man dismantle himself for our viewing pleasure.
Vinnie: "Yeah, yeah, you heard
the Quick
and wrote a song and it wasn't good." Mad clown love to BD Biz. Up next: ROT SHIT (photos by Lauren... if anyone has any other good ones, lemme know)
Actually some newspaper or blogger or some other bullshit took this one:
Kevin joined us onstage for "DEAD II". Sick dogpile. Dope like Sublime.
It's nothing to say we were awesome. I heard the live recording Eric did and "Power-Pop" sounded like
INFEST
. Thumbs up!
Drugula and Gabriel and your man of many hats.
After we were done, the band I was most excited to see all weekend was up next: MELTED SUNGLASSES!
Melted Sunglasses
are my favorite group from Miami. One night recently I got super fucked-up alone in my apartment thinking about my time in Miami and I just opened up Microsoft Word and had to get this down:
Miami sears into you as you coast along its congested highways upon entering this glittering paradise. Commerce pollutes the landscape with the most fashionable of shimmering glass monoliths to empty corporate promises that leave the most intrepid of the young in search of something, anything that will pull them into a new direction. But while the fight burns inside a small group of dedicated musicians, they must sacrifice and explode and implode and feel the tearing and the exhilaration and the utter futility of pounding away at something new. And when these bands release songs like this, I feel it in me from years apart and over a thousand miles away. Miami was a new scene to me and the band that makes it stand out the most as a representative regional beacon of its mesmerizing culture and good feeling and uncertainty that we experience everyday in these turbulent times is Melted Sunglasses and I for one can do nothing but offer all my unbridled support and whatever words they permit me or not.
Utilizing the musical and emotional tools from all parts of this group of young men making things happen musically in a city with the means to crush everyone's dreams before offering a solution for the young people tired of their ingrained existence unknown to the rest of the USA, Melted Sunglasses tack on a new dimension, dragging their toes through the final grains of lush warm sand on the beach until they hit the parking lot and are wandering with bloody toes under a neon sidewalk sale of futile glitzy urban dreams begging for a return to the clouds and warm breezes and the electric touch of the girl waiting for them in the grass on a hill with a hit of acid and a six pack of Tecate and a lime for you to share.
Photo by Michelle
Danny and Tony and Eric and Tony give their songs (and the Miami scene) the true harsh sexual-psychedelic twists that belie their joyous adolescent punk/pop sensibilities and turn each song into either a throbbing sweaty variation on a synapse-tweaking theme or a joyful romp through theories meshed in a mind-melting drift down the Opalaca River in a boat built for you and whatever friends you feel are ready to harness all the electricity their body can muster. I've felt it. You can feel it too.
"Sun King Pt. 2" sounds like
King Tuff
meets
Flipper
. Should I say anything else?
Drugula didn't know what to do at this point, but after that, it was time to make the scene while waiting for Pink Reason and Jacuzzi Boys to close out the night. That's when I retreated to the merch booth where our
Greatest Hitlers
cassettes and Bart Simpson Acid shirts were flying off the shelves. Sitting on the band beers were two righteous babes, Michelle and Amber:
"YEAH BUDDY"
-Liquor Store
Pink Reason and Jacuzzi Boys either sloshed themselves off the stage grinding through their hazy drunkenness or were sloshed with beers by the adoring crowd. Things had begun to veer off in the rawest direction yet and after cleaning up the actress blood, whipped cream, saliva, beer, vodka, and Vitamin Water it was back to the Penthouse for Party #2. It's nothing for me to say that it went well, complete with drunken lust, excessive overindulgence, another visit from the fuzz, and the repeated clowning of Midwestern freeloaders. Finally, the party just ended up like this: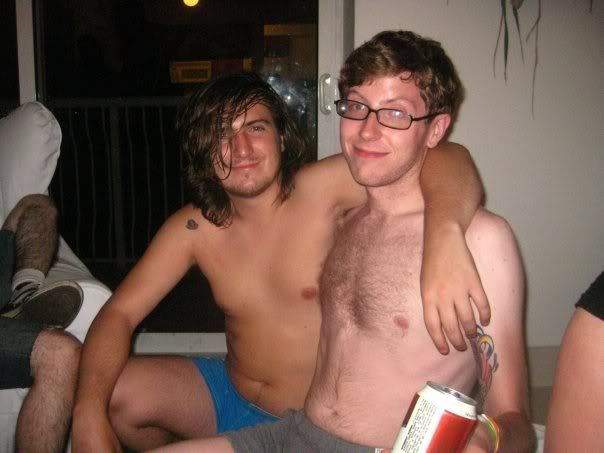 By the next morning, no one had slept, everyone was hung over, and I had lost my white polo shirt over the 39th floor balcony and was swathed in Gay Josh's tiny white shirt that I am not even sure was a shirt. Needless to say, it did not fit. The boys on the balcony with our man Manny:
We kicked it the next day relaxing at Sarah's house playing pool and foosball. Great times. And soon, with the other 3/4 of Rot Shit and Pink Reason back en route to our respective domiciles and me flying out on Tuesday, it was time for me to begin to say goodbye to my new friends in Miami, and what better way to do that than with fancy beers and grub and plenty of the beautiful ladies of Miami. Rene and I took a drive through Miami's more opulent communities and met up with everyone in a gorgeous plaza complex where tap after tap spewed forth with pleasing libations. Naturally I had more than a few
Rogue Dead Guys
and we made the most of my time, and nearly everyone made it out to see me off. Wylie showed his appreciation for these nachos:
Rene and Christina looking stylish before their big move to NYC.
No blog entry about Miami is complete without Raul. What is this?
Tony G., Nicole I., Steve A. Much love. $$$ GETTIN' MONEY $$$.
The food here was quite a fine pastiche of seafood and Tex-Mex with a swank trendy bar inside and enormous tables outside that we had all to ourselves. I couldn't ask for a better send-off and luckily I can scam more website hits off of pervy dudes watching Christina eat dinner.
Dessert.
As I took this picture I said to myself, "I wonder what everyone in Pittsburgh is doing right now. HA!" Say hello to the lovely Allen sisters Christiane and Michelle with Sarah T. and Christina, Nicole, and Elena. Let's finish out the night here and at Manny's before Danny shipped me off to the airport with a parting embrace. I'm glad I can post this picture and that the Internet exists:
And a final go-round with the boys:
So there you have it. Rot Shit may be banned from So Raw next year (HARSH SHIT), but it was worth it. I will never forget my trip to sunny South Florida and I doubt you will either. Reporting live from the G-20 are my great memories of new friends, new foods, new jams, and new beginnings. I will be in attendance next year, and bands
can get in touch with So Raw
for touring Miami till then. It is worth your time. Trust me. Build a scene with these awesome kids and remember it for the rest of your life.
I'm out. Turn on your lovelight.