Here Comes Sunshine
Greetings to all fellow travelers, eaters, jammers, and rockers out there. Since the last quick teaser from HONE featuring our good buddy
Nobunny
tearing up the Burgh back in April, I've aged another year and have now crossed the threshold of 27 when musicians are theoretically allowed to die and in addition I've been out on the road doing big thangs for all the readers out there who are so bummed that they don't get to see this page updated as regularly as they'd like. But after careful consideration and some pensive late-night reflection, it makes me happy to bring you what I've been up to recently outside of the Steel City (pictured below).
The winter had been harsh in town this year both personally and meteorologically and I needed a lot of time this year to clear my head and figure out how I was going to wrench myself out of the doldrums and rise above (no Rollins). Thanks to my ever-benevolent bosses who I think get some kind of vicarious thrill out of watching me stumble across America, I had plenty of time to just be broke for a few weeks and then hop on a plane to leave it all behind. My first choice of venue change was to everyone's favorite jealousy-inducing, wallet-emptying hippie paradise known as the Bay Area. With guarantees of food, spirits, libations, and much more coming from such notables as our own Vinnie, Mitch Cardwell, Icki, and more - we also had the ultimate face-off. Not Travolta vs. Cage, mind you, but myself and
Andy The Inhuman Eating Machine
. If you've been to this blog before, we've had the link up for a long time, so give yourself a refresher.
My flight left in the afternoon from Pittsburgh International and waiting for the 28X with my messenger bag, yoga mat, and wide-eyed anticipation of a city, state, and environment I'd never entered before was ballooning my expectations and getting me jittery for the five-hour flight. I knew that upon landing, I'd be navigating BART to Mitch's house to get the weekend started, and as I slipped into town around 9 PM I headed over to the East Bay, the whole time thinking about food, girls, tunes, and of course, Too $hort:
Mitch picked me up from the Macarthur station and I was pleased to find I hadn't gotten lost on my first night. He and Dulcinea set me up with a delicious sandwich on the couch and I got myself together with the help of the ever-progressive California medical community. We were due to meet up with folks at longtime Oakland institution the Kerry House. I was overjoyed to reconnect with old friends like Mitch and Mark. The last time I had seen both of them together was in Brooklyn at the Teengenerate reunion with
Chuck Barrels
and I was quite tired of all this internet hullaballoo and just needed a solid hang. What I got was more and then some.
I don't normally drink liquor, but why not? A common refrain I've perfected over the last couple of months sealed the deal: "Baby's on vacation." Kelsey has since bailed the Bay for the concrete pastures of Brooklyn, but it was great to meet her and chill with the gang.
Myself with the lovely Andy. I didn't get to steal any Revolver trade secrets, but I do think I managed to be sufficiently charming. She had to bail town that week for
Chaos in Tejas
, as did Mark for family business, but it was great to vibe my first night. While sitting at the Kerry House, I noticed a bum sleeping on the bench against the wall. Thinking that the bar showed compassion to street people, I inquired if this was normal.
"He works here". I looked in the back of the room and saw a woman passed out on the pool table. Mitch told me some stories about the sordid goings-on there as I watched a derelict pedal a bike through the door behind us. I zipped my head around and noticed he had a sandwich strapped to the rack on the back of his bike.
"Oh, that derelict is delivering sandwiches," I mused to no one.
It was our bartender. Soon enough, I was accosted by Oakland's finest after a brief conversation in which I utilized some obscure
Oaktown 357
knowledge to meet some new dance partners. Shake it up, white boy.
We headed back after that and I prepared for my first day. Upon waking up on the couch, I decided to head for a walk in the morning and see what was up with Oakland before I was hit with a hammer or beaten like a 97 year-old woman. What I found was a lovely stroll through the park and around the lake.
The Japanese Tea garden had some lovely flowers and strolling baked through the sunshine made me forget about getting rained on for the past two previous weeks.
I came upon a large music video set and walked through it to see a bunch of jokers in board shorts and ballcaps running around like crazy catering to the whim of some unseen band they were setting up an American Pie-esque comedy bit to film. I got bored after twenty seconds and did a lap around the lake. Soon I was back to where I started and saw the "band" which turned out to be some solitary Puerto Rican screamo nightmare sitting alone in a director chair. If you squint you can see him/it. Harsh vibes.
Andy and Mitch soldiered up to the task of beginning our descent into food debauchery. And so it begins. Our first stop was the Sinaloa taco truck.
I was told to order the suadero taco and the seviche tostada, which I did. Luckily, the tostada had an option to get all the seafood on the menu (
mixta
) and it was one of the greatest things I've ever tasted.
Hello, Andy, welcome finally to
7-Inch Slam
.
A little lemon and lime and you are in business. The seafood was so fresh and inviting that I murmured after every bite, savoring the thick avocado and the heat beating down on us. And look at this taco. Suadero is thinly sliced beef off the brisket and I highly recommend haunting the Mexican grocery in your town to find it. Pittsburgh will never have it and I am already sad about it:
And now for more me:
Morty Cardwell:
From there, we needed more. The next order was the Bahn Mi Ba Le restaurant that Andy and Mitch had been talking about. While we have bahn mi in Pittsburgh, ours are generally crowed about by the vegetarian set, and while they're great, this one said it contained meatball and egg. You bet I will. Note: I apologize now for the blurry pictures.
Look at this sensitive man. When Icki says "That's a good picture", you hold onto it. From there things began to get heated as we headed over to the El Ojo de Agua truck.
By this time I realized that all the Spanish Suzz had ever learned had never rubbed off on me and the dudes gave me a hand and helped me order my first real torta. I ate the beso de novia, which I can't describe in words, especially since I don't know the Spanish versions of what I was eating, nor did my honky upbringing prepare me for such delicious savory meats.
Note the cheese sauce, queso blanco, avocado, fresh lettuce and tomato. I haven't even described the three meats in the torta. And why should I? You should just go eat one. Everyone stepped up to the plate and tried a different variety and we stood in the parking lot housing sandwiches off the hood of the car and deciding where to go next.
Here's a size comparison to help out (that is half the torta):
Due to my extreme cultural sensitivity, I found it necessary to traverse the racial culinary spectrum and I was taken to check out the West Coast version of BBQ at Everette and Jones in Oakland.
The sauce here was THAT FIRE and folks behind the counter were getting heated up watching Lebron dominate, and we chilled outside and met up with Patrone who you may remember from
FM Knives
and more recently
Photobooth
. With a cute little dog and some stylin' shades, Jason joined our gang and we began to fight our way through the meal.
I ordered the hot links. They were smoky and spicy and full of hot pepper flakes and served with a tangy potato salad and bread. And here I have to admit after the first ten bites I had to run to the garbage can and hork because my stomach was too full of delicious food. Too much food in too little time caused for a quick detour from mastication, but Andy finished my grub and I remember my E&J experience fondly.
For dessert from Mi Puebla (more on that later), I tried two firsts: not only did I experience the mamey fruit for the first time, but I got it blended into a swirling cavalcade of freshness known as the agua fresca.
After all this, we journeyed to the Mormon Temple on the hill so that I could get a cool view of the East Bay in all it's hazy glory. Seeing Mormon money in effect lording their wife-swapping, do-gooding ways over the people of the bay was a trip indeed... one of the stranger megachurch whatnots I've seen and I've seen plenty of Christian FREAKS.
Handsome guy.
FREAKS!
From there it was a blur of a day. I can't find any pictures to confirm but I do know for a fact that I spent a night of intense partying with Brace, Eric, Heather, and Neil, I found myself walking alone through the Tenderloin at 10 in the morning doing my best to make it back to Oakland without losing my eyeballs/teeth. I must thank those kids for A) playing me a pretty killer Wild Thing CDR and B) Heather giving me a sweater to stay alive in the freezing chill outside and C) Eric for saving my Nalgene bottle and eventually mailing it back to me when I got home along with some other goodies like some of the records he put out on his own label
Daggerman
and a couple travel guides for my next trip back. Love ya, Eric. There's more Brace coming up, so fans of the internet and Vinnie-esque characters are in for it.
You know this burger if you're from California, but if you're like me and you're rolling there with the boys (including Mitch's roommate Clark who added some more good vibes to the trip) you're stoked. My companions soothed my horrid hangover and primed my gullet for In-N-Out Burger, a California institution that I've been dreaming of ever since I saw
The Big Lebowski
. I was convinced that I needed to order everything "Animal" style from the Secret menu, so that is what I did. Here are my fries:
Here is Clark about to dig in.
Never have I had a fresher fast-food burger anywhere in America. The employees are also given a living wage, which is extremely righteous and explains why they are busting their humps all day in those ridiculous paper hats. While the company is owned by kooky Jesus freaks who put biblical scripture notation on the underside of their cups, I can't knock their hustle. I think about the Double-Double at least once every three days.
When I mentioned Mi Puebla earlier, I was talking about the large Mexican grocery located in the East Bay. Upon my initial visit I snapped a photo of one of their employees preparing a bunch of grilled chickens in front of the store. No sooner had that happened that a large security guard stopped me and informed me there would be no pictures to taken inside. Well, that guy could eat a dick because I tucked my camera away the second time, got my camera in there and took pictures of all I could. Whole Foods tried to do the same thing to me on my own block, and all it made me do is begin preparing the "Fuck Whole Foods" 7-Inch Slam entry that brews a little more every time I go over there.
Anyway, here is some of the shit you can get in the grocery store over there. Made Giant Eagle Market District look like Beirut and for that, I salute the proud Hispanic tradition contained therein. But never tell me not to take a picture of food, motherfucker.
Delicious pastries I'd never seen.
Veggies qualified to satisfy, so fresh, so moist, so inviting.
Fruits that you've never even heard of before.
Chorizo ground fresh that day.
A seafood case built for a king. Each crab in there was probably 10" in diameter.
Premade BBQ supplies/meats/grilling fodder. This was three sections of a 15 section case.
The salsa case. WHY GOD?!
The Chickarron case - AKA giant pork rinds. Yes please.
Not only do all these beautiful creations come presented to you in the cleanest grocery store you've ever seen, but it is filled to the brim with hauntingly beautiful ladies strutting their stuff on their shopping day or working. And then when you go outside, there is a churro cart which you can utilize to fill your churro of choice with chocolate, caramel, strawberry, and more. I got a plain churro, Andy went with caramel and gave me a bite, and I learned that a churro pulled out of fresh oil on the street will make even the most hardened anti-desserter (me) wince with delight.
Cue the homophobic males jealous of me looking handsome/getting stuffed.
Moving on, later that evening we made a trip out to the lovely town of Porta Costa, CA to the Warehouse Bar, which is across the street from an old brothel and still serves up a lobster dinner and hotel room for the low sum of $65 if I am quoting correctly. We had some drinks and enjoyed the scenery. They also had something else that I enjoyed (though I must confess here, Mark was the man and took this picture and I realized there are no pictures of he and I from the whole trip, so I apologize Mark! Bacon cheeseburger dog on me next time.):
As the sun drifted away to the lilting strains of Mitch's 237th Fleetwood Mac attack of the week, the vibes circulating around the picnic tables outside were good and we co-existed happily amongst the shuffling old Deadheads and Parrotheads. Special note: if you have an internet jukebox in your bar of choice, there is a good chance you can search "
Cheater Slicks
" and come up with at least the
In The Red
albums. I learned this and life may be easier in the future if I'm ever stuck in a smoky life-ender with nothing to do. Andy and Kelly gave me a lift to their place and I dozed in the backseat and we crashed out watching the FSU episode of Gangland. They did not talk about any sweet bands. They should have also interviewed
Freddy Madball
just because. Especially about his hilariously awful new rap career.
Andy had plans for me the next day. We headed into SF proper and went to one of his favorite restaurants, Le Cordon Bleu, which served French Vietnamese eats at a counter the size of a dining room table. We shuffled in around 11:30 or so after Andy gave me a quick tour of Pacific Heights, Golden Gate Park, and the beach. The weather up to this point had been quite fair in the East Bay and SF but today it was beginning to get wet and chilly as the day went on. I cursed myself for not bringing a jacket to California. Cordon Bleu made up for it. There are five items on the menu. #5 is everything on the menu for 8.95 or so. We both ordered it.
The dish is sliced grilled beef (they call it shish kebab but there are no skewers or veggies involved), a large piece of chicken, white rice with meat sauce, cabbage, and a roll called the Imperial Roll. The meat fell apart in your mouth and the roll was so packed full of sumptuous flavor that I was drinking water just to cleanse my palate and retaste it with every bite. I didn't really finish my white rice and meat sauce, but Andy was happy to oblige and further impress me with his WMD knife and fork. He's like me and does his best to eat healthy then splurge, and it was a joy dining with him. Here's a couple more shots... look at the Imperial Roll. Just look at it.
Do you even like eating?
Andy took me off to Marin County and showed me lots of California that I never thought I'd see. The communities of Sausalito and Alameda and were gorgeous, and if you weren't aware San Quentin resides on the most gorgeous cliff over the water you'll ever see. How do you feel about that? Wild place, man. By this time, I decided that I finally needed to take the plunge and indulge in one of the things I'd come for: the Haight. He dropped me off and I began to walk.
Suffice it to say, there were a couple nice things about it. There is a market for buyers on the street and I was treated quite right by a fellow Deadhead from Humboldt County. Despite the testy weather, I had a borrowed sweater, a piece, and the tools to get the job done. I walked up and down Haight Street searching for some glimmer of the Grateful Dead spirit and instead found a larger dirtier recreation of Pittsburgh's South Side with more fuzzed-out bums and psuedo-hippies offering me the dank nugz. Any plans I had for freelovin' hippie babes, flowers, and sunshine were dashed.
Looking into their eyes for a brief moment showed faces devoid of emotion and charged with expectation. They were nothing more than stony vessels of gruff hustling - the mellow ineffectualness of the hippie of old had been replaced by a grizzled hick with a drugrug and an underage girlfriend tugging angrily at him. A t-shirt at any store ran at least $25 and the one bar I stopped into for a beer (the Toronado) was packed with rowdy financiers and very unwelcoming. The community was grasping at straws and it seemed to me that any vestige of what was important there probably never even existed. I waited for Brace so we could enjoy some Mexican in the Mission.
I did meet this nice dog when I ducked into a park for a reality detour.
Moving on.
We had a party to get to with all the young punx where I was sure to feel like an old man, but we needed fuel and we hit El Castillito which served us up two excellent grilled vegetarian quesadillas. My camera got a workout in here which i think all the cooks were bummed about, but with a trusty Negra Modelo and some righteous sauces and salsas any tensions soon subsided. The meat here looked great too:
Look at this asshole:
I think I am the number one supporter of little asshole punk kids and I really wish there was some kind of summit where the Braces and Vinnies of the world unite then get their asses kicked by their older friends. Too fun hanging with this guy.
I've also come to the conclusion that Negra Modelo with lime in it is probably my favorite reasonably-priced beer. Best bottle, good memories, and refreshing as can be.
After swinging by the party and kicking it with the kids from
Buzzer
,
Apache
, and
Wild Thing
(and feeling super old), I headed over to the knockout to go see some swingin' garage bands. The first band on the bill
The Mindless Things
started things off great with some rousing R&B-tinged rockers that actually culled some soulful Oblivians moments and some good hooks. Only problem was the guitar amp shit the bed after five songs. That stuff looks great but then when you gotta fix it what can you do? The five tunes I heard were hot and I would check them out again gladly.
Dusty the drummer was an A+ guy and introduced himself and we hung hard in front of the club till I was in a haze. The other bands on the bill were the Boars (aptly named) and the Shangorillas (who I think were actually using a pedal board for a rote 60's rehash). I passed. Met some cool folks and got loaded. Couldn't complain about the venue. The Knockout looks and sounds great and is packed with lovely ladies so give it a shot. Here's me and Melanie, and she kicks ass.
The Castro is the cleanest, nicest, most inviting neighborhood I've ever seen. They have a cafe called Tangerine which had a brunch that I couldn't believe. I ate a corn and macaroni pancake with fried eggs on top for under ten bucks in a cute place and I must give it my highest rating.
Some more killers from brunch land - my grilled brie and tomato croissant from a cafe I cannot recall the name of, except there was a wait for everyone else and there is no hostess.
Scrambled eggs with avocado:
Since it was time for exploration, this time I took the trip out towards Delores Park through the Mission. I stopped into the
Needles and Pens
zine store:
This spot had a lot of great material and a nice dude working the counter. There was a family with three children inside the store screaming and wailing and moving items around and he and I exchanged knowing glances. There is honestly one thing that bugs me so much on the street and it is "cool" parents. Sickening. While I was there I picked up a copy of
Human Being Lawnmower
#2 which ended up not only including a great
Rot Shit
review, but also righteous interviews with Andy Shernoff, Eddie and the Hot Rods, and more. I really liked this zine a lot even despite its obvious clinging to some sort of NYC punk history which to me seems like trying to hold onto sand at the beach.
I met a girl in the store who began to wander with me and she struck up a conversation about how she wanted to move to Pittsburgh. She was cute so I listened as we walked. After she told me she was interested in the anarchist community in Pittsburgh, I said "What sort of activities do you want to participate in besides living extremely cheaply?" When she had literally no other answer I figured it would be easier to just blend into the park and forget the whole thing. Two of her friends we bumped into introduced me to an old gold-toothed hippie who was doing bong rips in the middle of 1500 people on a hillside and I sat and conversed with him and enjoyed myself for awhile. Soon I began to get hungry so I nabbed a parting gift and headed out to a bar for a couple quick beers in this place called Delirium. One thing I learned is that shitty barpunk culture (along with the hipster grandma - which I got to see at the Nothing People gig coming up further down the page) knows no cultural limitations and even if you think your town is still the only place where new Misfits, rockabilly, The Dragons, Heavy Rebel Weekender, and Pitchfork combine to sluice a musical slop onto willing soon-to-be county employees, you are WRONG, brother.
After imbibing a few terrible beers and watching the near-homeless eat free bar garbage with every guy you ever saw at a Deftones show, I needed respite and the cheap delicious sushi at We Be Sushi killed it. I jammed the dinner special and three rolls and some cold sake and got fucked up and full and ready to roll. My last roll was the spicy creamy tuna salad roll and it was tight.
I haven't mentioned my buddy Damian yet, but here he is in his studious glory.
Damian has been my man since he and the elusive AA of
Cool Dude Quarterly
banged their way through Pittsburgh after the WFMU record fair last year. HONE and I were happy to have them for a few days and we made fast buds for life. Here are all four of us looking smart and lonely last Halloween at my house.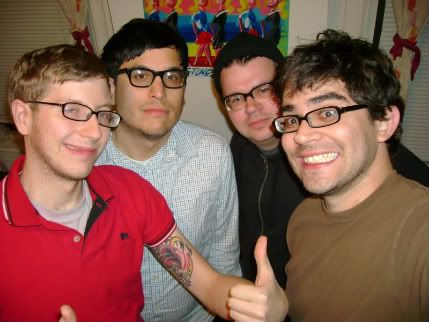 Damian saved my life multiple times on this trip and I can never repay him for anything ever. But for some reason he seems to still like me anyways. He has since moved to Berkeley and is ballin' out of control at school there running his lab and getting ready to crack the whip at grad students. I salute him. He took me all over Berkeley and showed me the campus and the rotten hippies polluting the streets. Once again, cheap tie-dye was a loss but the lasses were beautiful and the
lunch we had at the Intermezzo Cafe was on point.
I got the tuna salad and thai chicken noodle soup:
Damian jammed the corned beef and a half-salad (the whole salad is enormous and looks like something I need to try right away when I come back):
While Damian was busting his hump in the lab a couple days, I was strutting around Berkeley hitting up
Yoga for the People
and
Yoga Kula
(which was my first introduction to Anusara Yoga and an awesome refreshing class that got me very psyched). I also hung out smoking in People's Park watching the people mill about and then explored the city some more. The campus is bright and inviting and I forgot what being on a college campus was like, especially one as big as this. There were also many furry friends for me to say hi to:
That night, Damian and I went to Oakland to go see
Nothing People
at the Lobot Gallery. This was a huge highlight of my trip as I'd come to really enjoy the singles and
World's Lousy
track this band produced and I had heard nothing but good things about the LP's
S-S
has been putting out.
The gallery was housed in a desolate industrial area in Oakland and we were quite early. Using this time to purchase beers from the corner store, we settled in and waited for the gig. Luckily, Nothing People were up first and I was sufficiently zoned and ready to get some low-key space vibes rippling up through my spinal column. Nothing People came to play and they brought along ex-Monoshock member Doug Pearson as the new guy on bass and keys (even though everyone in the band switches instruments at least once during their set). The songs were crystalline in my ears and the room expanded and contracted with every brush over the strings. Tube amps and analog synths pulsed together creating a buzz in the room that rushed in and out of me with each breath. "It's Not Your Speakers" carried me along on a slow journey to the end of a beer bottle and gave me pause to close my eyes and take it all in with the beaming red lights and enormous installations.
The band were all sweethearts and were stoked that I was so excited to see them. Apparently they play about three times a year so I witnessed a pretty uncommon event and I am quite thankful. Amazingly they even tossed me a copy of their record and I must say
Late Night
is standing high above any other LP's I've heard so far this year with the exception of the Slicks
Bats in the Dead Trees
. A dirty satin and hard sex vibe sinks under the surface making the tones and sounds employed on this record drip like morphine, filling the room with blue smoke and warm, controlled feedback slowly melting into a throbbing k-hole of sound.
Late Night
lives up to its name and makes for a great listen when you truly need to disassociate with a smirk and the end of your trip. Pick one up while you can. They canceled their tour so live vicariously through me and support a great band.
Get the record here
.
Ran into Rob from
Tractor Sex Fatality
who I hadn't seen since Buffalo two or three years ago for
Big Neck Fest
. He is happily married and prowling Amoeba looking for more 45's to put in his special bin and it was nice to rap for awhile. Jesus, look at me.
One thing I noticed - kids are fucking FREAKS and I don't get it.
Another thing - CAVE headlined the show and sucked dicks while looking like Jesus playing prog rock and making all the kids flip out. Sorry boutcha. Damian and I shook our heads and headed home.
Eventually all good things must come to an end. My last night in town brought us all together at Thallassa in Berkeley and we had plenty of beers. Missy and Kelsey came out again with Andy and Kelly and Mitch and the vibes were great and I was really happy to have made some killer new friends and chilled hard with some old ones.
He's single, ladies. But don't ever try to get in the way of his
Tapeworm 45
.
After the bar I was loaded and we headed up the street for the perfect cap to the vacation: TOP DOG in Berkeley!
These sausages will stand up to any of our Euro brethren in the States and I could not get enough.
I killed the bockwurst, knockwurst, and a calabrese. They serve all these on French bread. Heaven! I got kraut, onions, and mustard on all three of mine and I must say: FUCK YES.
Here's a guy who had a good vacation.
Time for one more bite:
After heading home and waking up at 5 AM to get to BART to get to the airport, I walked an hour, discovered I left my debit card at the bar and had no money and was an hour away from the airport. Damian saved me at 6 AM, gave me ten bucks and sent me on my way. I got to SFO, missed my flight, slept under a bench for six hours, rotted in Vegas next to the ugliest, most annoying British family I'd ever seen (which was made all the better when I watched one of their sniveling five year olds faceplant on the carpet in the Vegas airport), got stuck on a Vegas runway thanks for Air Force One, and was met at midnight that night by Vinnie and lil' Suzz who brought me a sandwich and a kombucha. Best sister ever.
I'd just like to say, thanks to everyone: Damian, Mitch, Andy, Mark, Dulce, Brace, Melanie, Heather, Eric, Neil, Missy, Kelsey, Andytai, Dusty, Rob TSF, Nothing People, and more! If I forgot you, please forgive me, but I am a bum and sometimes it slips my mind. All I know now is I love the Bay and I'll be back.
Prepare for next time: STEVE HITS MIAMI. Coming soon!
Labels: BBQ, burgers, churros, hippies, mexican, mindless things, nothing people, nugz, rot shit, sandwiches, sausages, sushi, tacos, too short, torta, weed, wild thing, yoga