Secret Stash (or What I've Been Up To)
It's a jungle out there. I'll vouch for that. With all the turmoil in America right now, I think we could all use a break from the norm: the accusatory ranting of ultra-zealot neo-cons trying to sell our populace snake oil, a tanking economy, a media circus election that still is one of the most crucial turning points in our history, and of course, every member of my generation acting simultaneously like a morose 1920's West Texas pipe-liner and a drooling, whiny baby with unstable bowels about topics ranging from the most inconsequential (
Vivian Girls
, iPhones, sexy Halloween costumes) to one of the most consequential (the fact that all this gas price nonsense you motorists have been hooting like buffoons about is taking a dangerous toll on all manner of FOOD AND GROCERY PRICES!).
But whining and caterwauling aside, I'll admit in the past I would normally have had a bad attitude about plenty of the other completely ridiculous problems our world faces these days. But as time goes on, I've learned that life is much tougher than most of us could dream of and tuning in to gripe on message boards from our lofty office drone perches only makes us look more spoiled and laughable to the foreigners who have been ravaging eBay lately, pillaging and plundering all of our essential United States hardcore and punk vinyl history with our ever-shrinking exchange rate.
And basically, all I can say is I've been doing my best to detach, beef up my daily yoga practice, and to stay full for the long winter coming up. So let's take a look at some special sandwiches and assorted other ephemera that I have been foolin' with since our last update (and a couple special blasts from the past, as well). But I guess no day is complete unless you begin with a hearty breakfast first.
My new apartment has a pretty large kitchen, and before jetting off to LA with Eric Courtney for her new career, my girl Roxanne (who you may remember from our
Leekfest Spectacular in West Line
) gifted me this kitchen table where I can sit on a nice morning to enjoy my vittles and read. Here we have my bachelor breakfast, which on this particular day, consisted of an egg-white omelette stuffed with spinach, tomato, onion, and Monterey Jack cheese. My cereal of choice here was a bowl of Total mixed with Grape-Nuts.
Despite the meats and cheeses and assorted nonsense I've shoved into my yap in the last 26 years, I have never been big on sweets and I like my breakfast cereal like I like my women: crunchy, full of fiber, and whole-grain. So yeah, jab away, but I will eat the criticism up with some soy milk. Also, the
Yoo-Hoo
hit the spot. After Vinnie and Drugula couldn't stop talking Yoo-Hoo back in July, I made it a point to grab a six-pack, and it made for a nice treat for awhile. The potatoes, which I have been making since back in college, were spicy, crispy, and the perfect breakfast side dish. Add some fresh fruit, and you can turn your hovel with no TV, one free-standing lamp, and resin on the coffee table into a swank little private soiree for you and your lonely morning.
Chicago Dogs can't be beat, but the only problem is locating the perfect ingredients when not tromping through Illinois. Hopefully one of these days, one of our Chicago readers sends me a care package with the proper tools to replicate the joy of a true Chicago Dog. I've done most of the leg work and found the stores with the sport peppers and the proper franks, and now I need the neon green relish and the seeded buns! A few years back when I began working Downtown, there was a hole-in-the-wall on Liberty Avenue called Yovi's. It was run by two Chi-Town ex-pats, one of whom I assumed was Yovi, but I don't think those dudes could have gotten their names out from under their moustaches anyways. The shop, which was dirty in all the right ways, was completely covered from floor to ceiling in Chicago sports memoribilia and served the dogs in the exact same manner with the exact same ingredients that I'd come to find in Chicago proper. It is missed.
Here's a snap from lunch at the new Downtown PGH standby
Franktuary
with Vinnie and Pittsburgh all-around nice guy and record aficionado, Dan Allen. What you see here was half my order... my Bratwurst special didn't photograph well on my new phone, but you can see the Detroit (chili, onions, and yellow mustard [and I added jalapenos, sauerkraut, and banana peppers]) and the Buffalo (bleu cheese dressing, Frank's Red Hot, and I always add the chopped red onions). Someday I will have a full Franktuary rundown, but for now this will do. I am five dogs away from a free one on my Franktuary card!
Moving on, here are some pretty boss sandwiches I think you should take a peek at.
Turkey pastrami is my go-to lunch meat now. Here it is with some jalapeno mustard, onions, and Swiss on some multi-grain Tuscany. Don't mind if I do.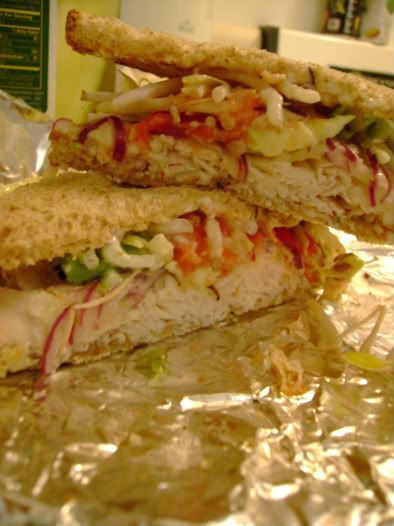 I whipped that turkey/avocado/bacon/Muenster/tomato/mung sprout/onion number at 3 AM after ingesting some fungus. Not too shabby.
My co-worker Chris (who loves eating and food and complaining as much as I do) went out to lunch one day and about forty-five minutes later I received a mysterious phone call from him. He said "Which do you like better, corned beef or pastrami?" That is a difficult choice for anyone who loves the most delicious of the salted, cured meats. I opted for the pastrami, and he brought me this killer greasy pile of slop from
Smallman Street Deli
topped off with about a pound of salted and spiced mouth-watering shaved meat with all the love that the Jewish community is known to show to their cuisine included.
Thanks Chris!
Here is the result of when Ciggy and I made some fried bologna sandwiches. This hot one had two kinds of cheese (Colby Jack and provolone), mayo, tomato, and onion. It was quite tasty when put on toast. Don't forget your roots.
Here we have one of my South Side moving casualties. No longer can I walk a block and a half to
Carson Street Deli
for this monstrosity named The Donnie Brasco. From the CSD website menu:
Buffalo Chicken on Fresh Italian with Hot Pepper Cheese, Lettuce, Tomato, Onion, Hot Pepper Rings and Egg Salad with Your Choice of Ranch or Blue Cheese Dressing
. For seven dollars? Forget about it!
Internal!
Spinach, salmon, and feta. Delightful. And in order to further confound and anger Andy from
Inhuman Eating Machine
, it's another with sprouts on it. I've decided recently that leaves of lettuce are pretty weak, so I am going to be garnishing sandwiches with sprouts or leafy greens from here on out. No sense eating solidified water in Iceberg form (unless it's shredded finely... shhh...)
Fresh fruit often makes any sandwich more appealing. This didn't need it, but it didn't hurt.
And with that, here's a sandwich that puts shredded Iceberg to GOOD use, and as recently as last week supplanted the
Varsity Pizza
in Moundsville, WV as my favorite Italian hoagie in the world. Any Pittsburgher keeping up with the internet knows this place, and I'm glad to give some props to the East End's finest new pizza shop:
SPAK BROTHERS PIZZA
. In addition to employing Cig and a host of other young punks, including Vinnie on a part-time basis, they serve plenty of food for the veggies out there. I picked up some Spak Bros. last week to celebrate Lil' Suzz's birthday and she says the Seitan Melt is the best sandwich going right now, so you know what to do if you haven't yet.
Here is the Italian close-up: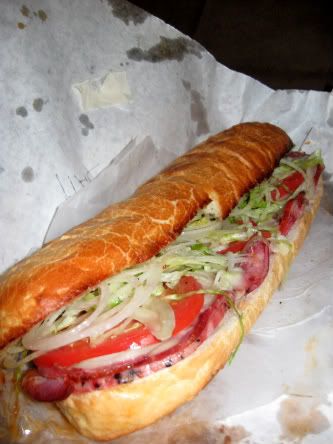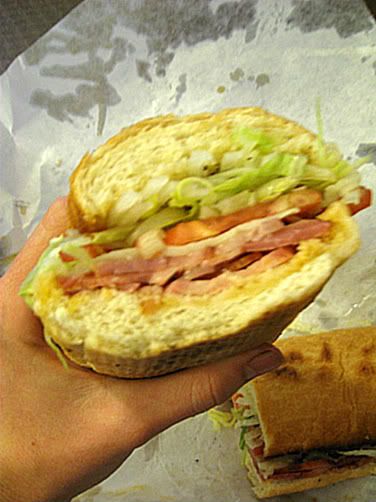 I haven't sampled much else, aside from one slice and three curly fries, but Spak Brothers deserves all the praise it gets. All they needed to do was print the ingredients of the Italian on the menu (sweet capicola, hot capicola, hot soppressata, and Genoa salami, all from
Parma Sausage Company
in the Strip.
Remember them
?) and they had my backing for life. Congrats to Ryan and Nate on their opening and I wish them success for years to come. And free sandwiches for myself.
This last set will mess your brain up. Get ready.
It was my boy Cla$$y Chri$' 35th birthday and he and the wife called me up for some deep-fried hoagies down at Jerome Bettis' horrid restaurant on the North Side. Aside from the terrible servers, the gaudy faux-celeb design, the wobbly table, and the moronic yinzer fanbase that filled it up, all I can say is they served DEEP-FRIED MEATLOAF SANDWICHES (see above) and then what I decided to wolf down...
THE DEEP-FRIED ITALIAN. Here's a closer look:
Moving on...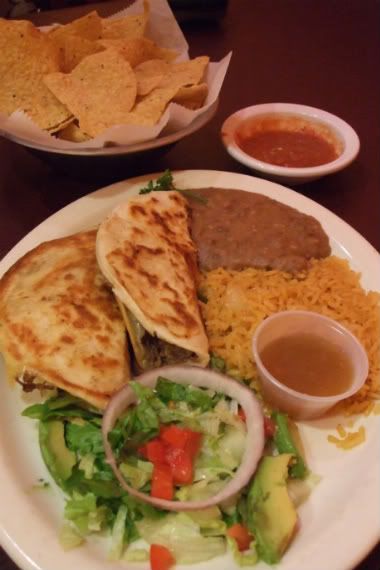 Ever been to Texas? On my first trip, I ate so much outstanding food I reconsidered coming home. Ever had a brisket taco from
Mia's Tex-Mex
? It was the first thing I ate there and the shock and awe that these marinated slices of heaven brought over my person was on par with the time I first I ate the
Elbow Room's
clam chowder, which I think is saying something.
I also sampled some of the "famous bean soup":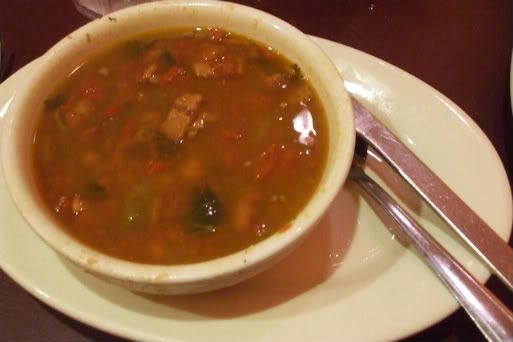 And I really couldn't have asked for more, thanks to my lovely tour guide. Ashley #1.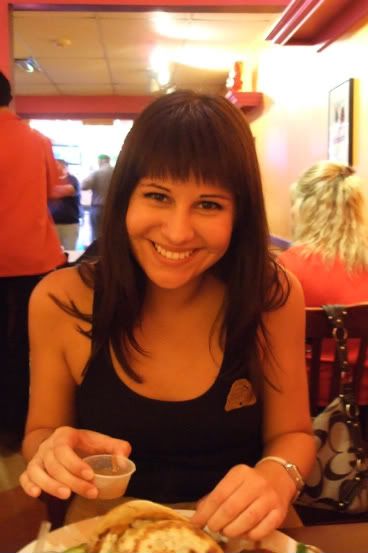 But I did ask for more. I asked for some giant beers: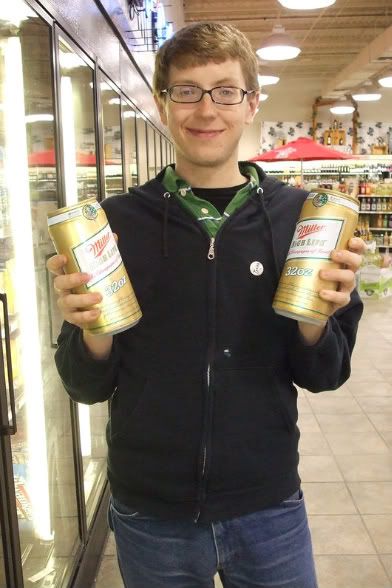 And then I asked for a trip to
Cafe Brazil
. And a chorizo egg-white omelette with hash brown casserole. I got that.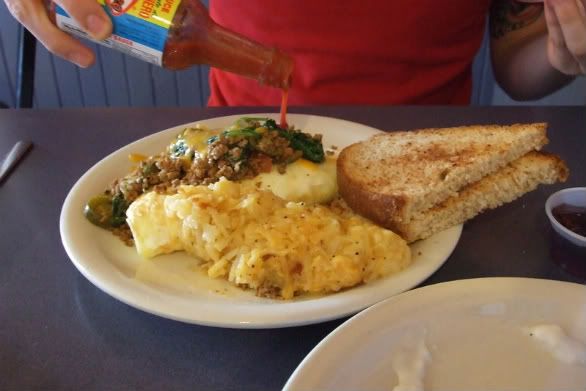 Ashley asked for some SERIOUS fruit pancrepes. She got that.
And then she asked for some of my omelette. She got that.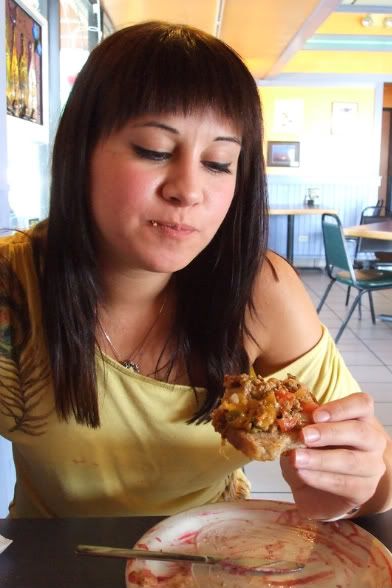 In case you were curious, Cafe Brazil was stocked to the gills with bountiful, healthy, and fresh ingredients; a large and diverse menu that appealed to all walks of life; and coffee so good even I had to have a cup or two. We were the only folks there and the atmosphere was gorgeous. Quite a fine joint, that Cafe Brazil. I would love to return. Probably the most amazing food-related sight I saw in TX was
Central Market
, which was the size of a Sam's Club or Costco filled to the rafters with gourmet food. Delicious treats, outstanding produce, huge meat and seafood sections, football-field size wine racks and fancy beers of all stripes were everywhere, and you wouldn't believe the gelato stand!
We ate up the Forest Berry Yogurt Crunch mixed with Vanilla, and it put the tame cherry, lemon, and chocolate flavors the Eyetalians have here up in Bloomfield to shame. STEP YO GAME UP. But I digress... there was sushi to be eaten at Fujiyama. We hit this place twice, and the second time I was smart enough to get some pictures. Feast your eyes: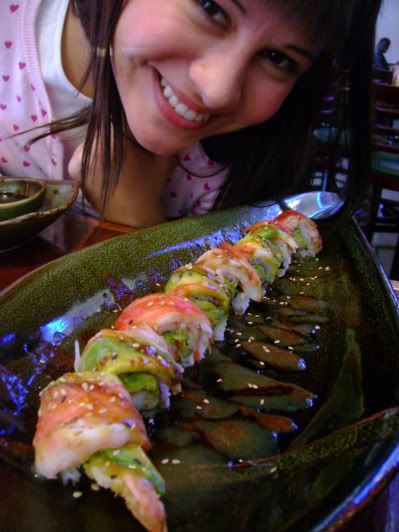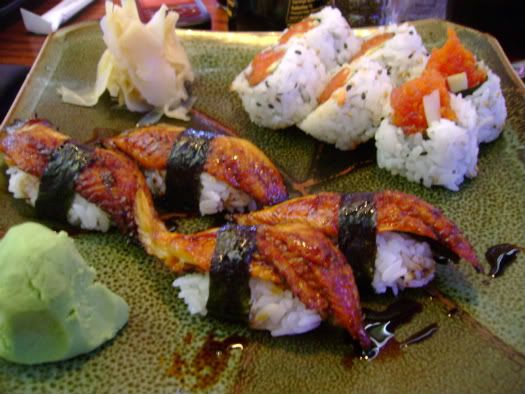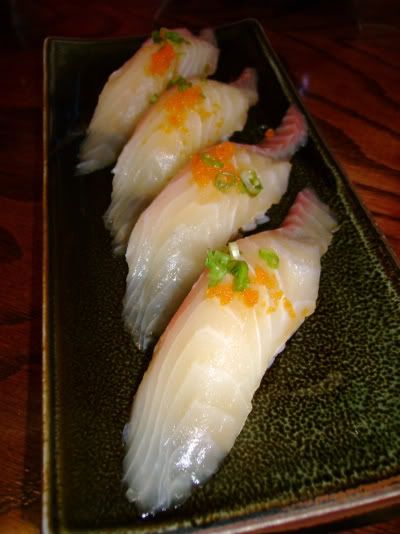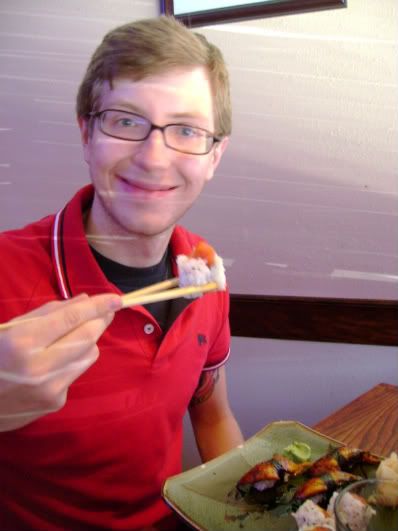 And finally, here are some records sent to us by fans and some that I have been jamming at the new spot through the summer and fall.
All 7-Inch Slam readers should know of the
Inhuman Eating Machine
by now. Andrew Levy from
the Touch-Me-Nots
happens to be the proprietor of said blog, and he and his lady make up this San Francisco twosome who were nice enough to toss their LP and 10" my way a long time ago. And finally I am getting around to writing about it, but here's what I have to say. The TMN's fire off a gaggle of snappy, witty tunes and I can hear a touch of Woody Allen's New York loser humor in the lyrics that showcases Levy's East Coast roots.
The sound is minimal, with Kelly Tschantz providing plenty of more than capable straight-eight pounding and dreamy backing vocals. The guitars twang and sling about a Southern heft, and honestly, I am reminded of ol'
King Louie
himself and his one man band spectacular, minus the years of self-abuse and backstage eight-balls. I feel like the Touch-Me-Nots would be much more concerned with a glass of smooth sippin' whiskey and a burrito after the show instead. The guitar work shows taste and restraint at times, and can break into a wild blues stomp, complete with off-kilter shredding during others. It's a sound that works in their case, but my main caveat is there is very little low-end in the tunes die to their lack of a bassist, so maybe you want to fiddle with your equalizer beforehand or petition Andy to fashion his Fender combo into some kind of dual G&B rig. But anyway, if you can grab either of these records, I'd say go for it. I especially like "Class Reunion" as an example of their low-key hopped-up sound. I'll back 'em! The LP is self-released and should be able to be gripped here. And you can grab the Sheldon Munn 10" up above from the Frenchies over at Yakisakana.
"Don't Hit Record!" Records
out of my my favorite little touring spot, Memphis, TN, dropped off two EP's for me to peruse, one being the split 7" (take THAT, Mike Sniper!) squaring off my partners in crime from Chicago
Daily Void
with Montreal's newest dark and moody punk darlings
The O-Voids
.
Daily Void checks in with two tunes, including a reprise of their hit "Devil's Gold Window" from earlier in the year. Having played shows, partied, and hung out with the DV boys ever since Horrible Fest #1 when they were still
Functional Blackouts
, I must say that this is not an act and these guys are one of the more unique combos going right now, and any chance I get to praise their work is more than welcome for me. The jerky robotic paranoid vibes you get here stem from a break from the Chicago "cool kids" and an introspective look into a strange dystopian universe which I hope never comes, but I am always happy to hear songs about.
This happened to be the O-Voids first vinyl appearance at the time, and they did not disappoint. Apparently all the PCP and gorgeous girls in Montreal didn't stop them from keeping their songs moody and dissonant, worming the dubious "noir punk" tag from some press releases and reviewers. Philip Marlowe this ain't, but it sounds just right to me with bleak tinges of Warsaw and I think it would make a more than suitable companion for lonely beers and window-staring or a drive in the rain to somewhere you don't want to go. There's a stripped-down post-punk clatter that works well with some heavy reverb on the vocals, but not too much to garner a chorus or render it unlistenable like some of their contemporaries who are much too busy checking Pitchfork for their names to bother with making memorable songs. Great first effort. "Remote Control" would be the hit to me, and if these characters make it down here, this is a band I could see sharing a bill with
Kim Phuc
, who share a similar vibe.
As for
the Staags
, this record threw me for a loop. You might know their bassplayer by his internet psuedonym Jack Stands and his stellar live recordings for all your Memphis and
Gonerfest
darlings. I checked out a few songs live when
Rot Shit
played with these gents down in Memphis at
Murphy's
in January and was duly impressed, but this record separates them from the pack with its pure hardcore sentiment. Sometimes live hardcore can have an off-night, but a 7" record is ALWAYS its truest test. Regardless of whatever hip jams may get you laid these days, raging hardcore punk was never on that Top Ten list, but I couldn't care less. The Staags attack, charging headlong into pounding 80's template rhythms which will always work as long as young, white men are mad about something, however ridiculous. This record carries my highest personal recommendation if you want to turn your brain off, drink ten beers, fight your friends, and pretend you're Matt Coppens for about seven minutes, and that's just long enough for me.
Cool cover art and simple basic hardcore pounding make this a winner, and the songs on their Myspace also show off some great catchy rock n' roll chops, so they are firing on all cylinders... check out "Noise Ordinance Rock"! Hopefully we get another EP in the pipeline, and I'd say the Staags could call it a day and be remembered fondly on
Killed By Death: The Termbo Years
(which Aaron Lefkove needs to get on comping RIGHT NOW, got it pretty boy?). That being said, I'd roadie for these guys.
Hook or Crook
didn't send me this one out of the goodness of their hearts, but the thirteen bones I plunked down in June before the USPS lost my pre-ordered copy of the new
Human Eye
LP "Fragments of the Universe Nurse" was no sweat off my back. And when lost, head honcho Chris was kind enough to supply me with another copy of the colored vinyl, limited to 200, even! What a guy! But getting down to brass tacks, this is an essential long-playing platter in '08 and Human Eye continues to bring their warped psychedelic vision to life on wax with more force and drive than ever before.
Everyone liked the first LP fine after they shook off their acid hangovers, and the recent singles (two of which share tunes with this release) were even more of a step in the right direction. But now Timmy V. has pounced on his art and has got me reeling whenever I drop this on the turntable. "Poison Frog People" on the B-side gives you the shivers with the winding tear the guitars rip into, and the multi-instrumentalists they are, they send Johnny LZR on a
Pigpen-esque
racket of xylophones that back up Vulgar's guitar histrionics over the tom-pounding that will make you twitch. They've really hit their stride, and I'd love to get the chance to check them out again. We've been pulling for a PGH show for awhile now, but let's see if we can finally make it happen. I would be afraid to see them torch another vacuum cleaner again, though. Wait, who am I kidding? No I wouldn't. Hook or Crook is putting out some important platters these days (Lamps, Haunted George, Mirrors, the Rebel), everyone. Don't sleep and make sure to throw them some business.
As for new singles, you bet I got some for you!
Tyvek
? They just put out another 7-inch on
M'Lady Records
with some more old songs from the Fast Metabolism CDR we've all been listening to over and over since they started kicking around the MTV-approved "LO-FI" scene a few years back. This time, we have one of my favorites "Sidewalk" kicking things off and "Future Junk" from the split with Cheveu as well. "Flashing Lights" tops it all off, and what you have is a much-needed DIY blast that echoes long-lost UK wonders like Desperate Bicycles, Swell Maps, and good old budget trash recordings like no other. Y'all missed out on this 300 copy gem, so maybe there will be a repress. I believe they have a full-length recorded for
Siltbreeze
as of this writing, so hopefully there will be a tour coming up that hits my neck of the woods. Seeing them at Southpaw in Brooklyn wasn't gonna cut it when I had to sit at a merch table all night two hundred feet away, so hopefully TVK will be
OFF DA GRILL
soon!
Mayyors
? Only getting better. With the "Megan's LOLZ" EP they have got their sound hammered into place and the noise blasting from Sacramento is deafening. Woodhouse has his recording on point as always, but I am continually turning to Mayyors for a dose of garbled unintelligible droning screams and the fuzziest guitars and bass this side of a shitty broken Pignose amplifier. Not much else to say except you've probably missed out by now, but you can jam it vicariously through me during bong rips.
Monoshock
? I know, not new by any means, but a cheap eBay pickup of "Model Citizen (Nitroglycerine)" warranted posting as it has one of my favorite tracks on the flip. "Hawkwind Show" breaks the cycle and shows Grady and the boys at their most pop-oriented. My sister added that track to her Suzz's Jams iTunes playlist, but this should give you the hint to buy the Monoshock singles and rarities comp CD
"Runnin' Ape-Like From the backwards Supermen"
on S-S post-haste. The double LP is getting some bids on eBay now, so pick that up while you can. Baby needs more singles, so write in if you can help! Hippie San Francisco Psych-freakouts never felt so good. Also, I need the lowdown on Grady's in Ventura. This blog is for ME, people!
Eddy Current Suppression Ring
? One of the best bands going right now, and they're leading the charge which along with our shitty dollar is filling the touring circuit up with GREAT Aussie bands like
Witch Hats
,
Ooga-Boogas
, and more! The Demon's Demands 7" on
Iron Lung
is long gone, but Goner is repressing the first LP, and you can pick up the
Primary Colors LP right now
! This band will unite all the freaks, rockers, bangers, weird punks, not-so-weird punks, and louts alike, so get in where you fit in and pick up all the ECSR you can! I need it all, baby!
Kim Phuc
? I've dished on them already, but the new 7" is beyond the pale, and the My War Matt recording on their new 7" disc for
Criminal IQ
finally does them justice. They have two more 7"s recorded, so get ready for the barrage of depressed musings and wimp-slaying guitars emanating from our Burgh real soon. Not much else to say. They do now have a
Myspace page
, so you can go pretend to be aghast at Ben's Confederate button-up, but I'll be happy to go see 'em next week. Young Eli's got a hot new pop band called Plastic Idea, as well, so there are some great things on the horizon.
Cheater Slicks
? The best band in the world. Hands down. Between them and the Dead, I didn't listen to too much else this summer. HONE has the hook-up for a few 45's I'm missing and my partner in lazy blogging crime Tony over at
Cool Dude Quarterly
sealed the deal this morning with my Slicks Holy Grail (the giveaway 7" from their 10th anniversary show), but I still need the following:
SINGLES
"Chaos" b/w "Destination Lonely" 45 on Gift of Life
"You Don't Satisfy" b/w "Little Red Book" 45 on Sympathy
ALBUMS
"On Your Knees" LP on Gawdawful
"Don't Like You" LP on ITR
Last time I checked, I gave you this lovely blog and something to read while you were bored at work. I never asked for much, so please do the needful and email me if you can help with any of these. I will be happy to drop some $$$$ or trade something of value. Until next time, keep your RSS feeds locked right here. Missed y'all.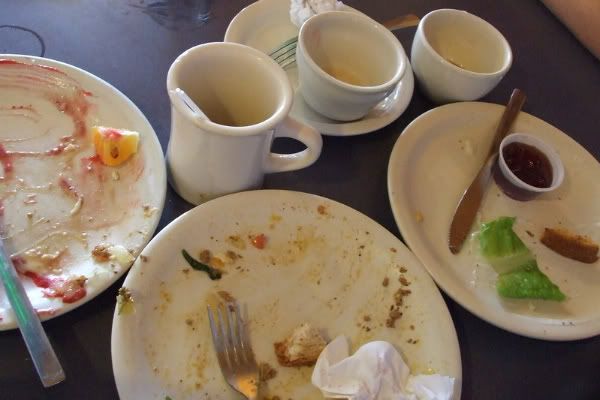 And that's that.
Labels: babes, bean soup, beers, brisket, carson street deli, chicago dogs, fujiyama, hoagies, italian, lunch meats, mia's, omelettes, pittsburgh, sandwiches, seafood, spak brothers, sushi, tacos