Quattrone's Poutine and Rob Henry's Anxiety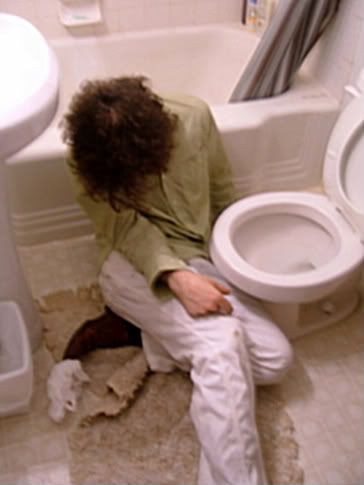 The chef in his glory on my old bathroom floor, circa 2006.
Here's one from the vaults of wintertime I had saved for posting here. A few months back, local nightspot Remedy in Lawrenceville hosted "Neil Young Night". Naturally, Paul Quattrone from
Modey Lemon
/
Midnite Snake
/
Baby Bird
/
Italian Ice
(Jesus, that's enough for now!) had a raunchy food idea cooked up and decided to salute our steely Canadian brethren and whip up that wonderful concoction I've been waiting for since
Vinnie and I soldiered up to Toronto two years ago
known as poutine. Unfortunately, when I was bumming through Queen Street, I learned that poutine is much more common in a French-Canadian city like Montreal where everyone is wacked on PCP all day and not so easy to find in a burgh like Toronto where everyone is content to be drunk on shitty beer like Labatt 50 instead.
While bootleg Neil footage blared through the projector and sound system upstairs, the jukebox (when turned on) cycled through the requisite gems in his catalog, much to the delight of uber-fans like Lil' Suzz. The place was packed with our friends and I finally got a chance to give poutine a go. Barring any trips to Montreal (
"Vive le Steve!"
) in the near future, I must say that the poutine was delicious! The combination of curds, fries, and gravy hit the spot. And while Canadians or Wisconsinites may take issue with their curds with a vehement proud streak, the Pittsburgh version suited me just fine. Despite having to eat standing up in a crowded bar, I'd give the experience an A- when food, soundtrack, company, and location are all added up in this great internet equation known as
7-Inch Slam
.
While I was there, I ran into my friend Ben Smartnick, straight-edge rogue and one-half of the guitar corps of up-and-coming local powerhouse
Kim Phuc
. He had a copy of their then just-released 7" to slip me, and I was quite pleased to be an early recipient before the general public could hound away for this 300-press gem.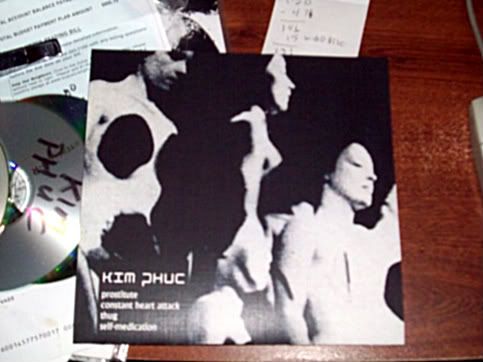 I do believe this is now out of print, but you may be able to write the band for more.
Kim Phuc has been gigging around town for quite awhile now with Ben and vocalist Rob Henry as constants, and most notably with the newest lineup featuring Corey from
Caustic Christ/Aus Rotten
on bass, local heartthrob Eli on second guitar, and local roustabout TFP on drums. Their sound has been refined in a gristmill of dark, brooding, anxiety-ridden punk: rain-soaked and rusted, much like many parts of our city, owing as much to 80's Northwestern punk and warbly post-punk as to hints of
Rudimentary Peni
's
Death Church
. Rob Henry wails and stomps and spits out his neuroses on wax, and you can feel the palpable tension contract and expand as the walls close in around him. Despite his reputation as a ball of pleasure, the lyrics dwell in a sub-basement of the human condition, all sweat and jitters and regrets long since washed-over.
While the recording here doesn't have the punch of their upcoming 2-song effort on
Criminal IQ
, the songs have no trouble standing up to the given treatment and generally overcome any sonic issues, especially in the case of the B-side, where they sufficiently punk out and deliver a knee to the solar plexus akin to their live show which earns them more and more fans as time goes by. Up above you can see the author with RH in all our glory, right after I'd ingested fungus that was both a blessing and a curse, since I enjoyed the show immensely, despite Eric Courtney and I ending up at a ski resort six hours away at 7 in the morning the next day. But what can you say? A youthful indiscretion, perhaps, but our motto around these parts is
don't fear the afterlife
.
Keep your eyes peeled for more from these fine folks. They have recently played out in NYC and Philly, and with a substantial string of local gigs coming up (some with good-to-great bands and some that I generally will excuse myself for [which I find to be Kim Phuc's only real failing: SELECTIVITY OF SHOWS]) I can only assume they will continue doing us proud here in Pittsburgh until Rob Henry finally collapses. And that's a day I hope will never come.
Kim Phuc photo courtesy of Laila A.
Labels: 7", kim phuc, neil young, pittsburgh, poutine, quattrone, rob henry