Blogs That Desire to Be 7inchslam.com
Summertime is upon us. The Penguins are done, the Pirates are below .500. The sun is shining. Babes are struttin' around showin' off what they've got. Dudes are struttin' around looking at babes. Everything that's cool year round becomes even cooler in the summer.
Especially food.
Summertime food means everything is fresher, cheaper, and preferably cooked outside on a grill. When summer rolls around, you need to call up everyone you know and throw together a cookout. Tell all your shitbag friends to bring a dish to share, and probably a 30 pack too. Well, at the onset of warm weather, us Pittsburgh rockers threw together one hell of a cookout.
The ultimate cookout never starts outside. It starts by calling your friends and telling them to show up on a Sunday afternoon with food. Then it continues when some girl decides to actually prepare all the food you need for a kickass cookout. Luckily, Big Suzz was on the case. She woke up at 6am to make some famous Anderson family potato salad and a nice pasta salad too. At a more reasonable hour of the morning she sent the dueling shitbags to pick up some hamburgers, sausages, fake burgers and dogs, buns, condiments, salad, and chips. Things were starting to come together.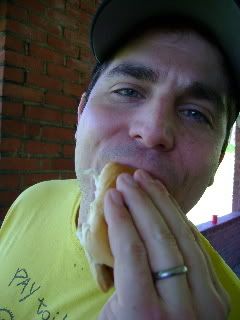 We arrived at Pittsburgh's historic
Schenley Park
early in the day. We staked out a pavilion, waited for friends, and gathered sticks from the woods. After witnessing a previous cookout in which a family of Russian Jews said "fuck you" to the Kingsford charcoal company and cooked their food using scavenged wood, we were ready to do the same. Charcoal, like prostitutes, costs money. Cooking over a bunch of scavenged wood found in the forest takes a little longer but, if you apply yourself, is free. And better.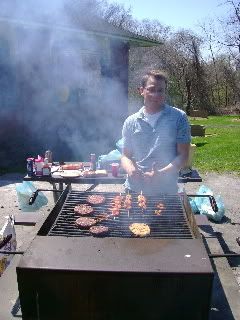 After people started showing up we were ready to start cooking. We had potato salad and pasta salad and a couple bags of chips, but the highlight of every cookout is the grill. Our woodfire was kicking ass, and grillmaster Specs handled his business. For a kid who's really into wearing sweater vests, this guy can grill with the best of 'em. He showed up with BBQ shrimp skewers and chicken breast, then threw our burgers, sausages, and assorted soybean meats onto the fire. The key to grilling any piece of meat is to sear it using high heat, which keeps the juices inside. Or just get drunk at noon and let somebody else handle the grill, which worked out really well for me. Good work Specs!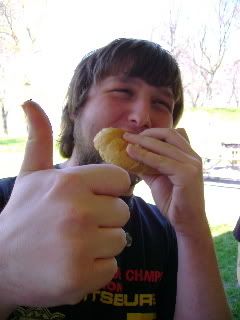 Every great summer time cookout should have plenty of food, a couple cases of beer, liquor for the chicks, and preferably some sort of honky sports like bocce. We had all of those things, but we were missing out on hot summer jams. With no electricity and no jambox, it just wasn't gonna happen. But if it did happen, we'd need some John Legend (
official site
,
myspace
)to accompany our outdoor gluttony.
White folks don't know about summer jams and they can't roll joints. So I stopped listening to white folks about anything and started loving John Legend. He's a soul singer from Ohio who does everything that summer jams are all about. Summer jams mean upbeat soul songs for hanging out with your boys, and slowed down classics for when the ladies are feelin' sexy. Legend gives you both of those in spades. His first record "
Get Lifted
" is his best effort, and Kanye West did a bunch of beats for this one, so you know its gonna be a rocker. The first 6 tracks are mostly all about cheating on his old lady. Note: These tracks are not for your old lady. The first half of this record is for dudes, preferably hanging out outside. The standout jam here is track six, called "Number One," which Kanye spits a really hot verse on. Then the record changes mood and slows down a little, this is for when the sun goes down and you're with a lady. Even Snoop Dogg is in the mood, as he says he wants to "put down the pimpin' and step his love game up" on a guest spot in "I Can Change." Even when you can't get any girls to look at you twice this is still the record for you, I went a whole summer with nothing but this record and 8 dollar bottles of whiskey. Legend recently put out a second record called "
Once Again
" but his first record is the one you need for summer time livin', so make sure to download it, since its not available on vinyl.
Summer time is here, finally. We've got cookouts, hanging out on porches, short skirts, cold beers, and hot summer jams. If we'd had football on Sundays we wouldn't need anything else.
One more thing...
Over at the 7inchslam.com offices we are trying to organize another kick ass summer cookout for early to mid July at
Vinny's
drug addled new house, and we want to have bands play. If you're in a band we like and you are gonna be around Pittsburgh, let us know! If you are in a band we don't like then talk to
these guys
. Thanks!
Posted by
John
.
Labels: BBQ, grill, john legend