Special Guest Alicja Trout from the Lost Sounds / River City Tan Lines!
We're very excited to bring you our second special guest cook from the 7inchslam kitchen. Our
first guest cook
,
Warzone Womyn
's Mike Bolam set the bar really high. So we knew we'd need a creative, delicious dish, and a really badass record to follow up our last effort. Luckily, we lined up a really badass special guest who didn't disappoint.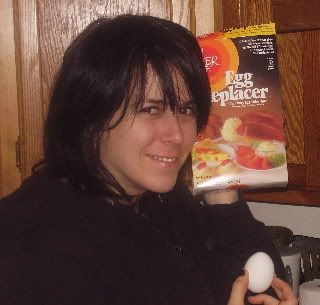 Alicja Trout has been doing big things since back in the day, and she's not slowing down anytime soon. This Memphis legend is best known for her work with Jay Reatard in the
Lost Sounds
. She's currently kicking ass with the
River City Tanlines
and
Black Sunday
. As if that wasn't enough, she's running one of the coolest record labels out there right now,
Contaminated Records
, which put out a couple
Feelers
records and a bunch of other stuff. If that's not enough punk rock scene cred for you, she's also a smokin' hot babe who can party anybody under the table.
But can she make coconut curry ginger soup?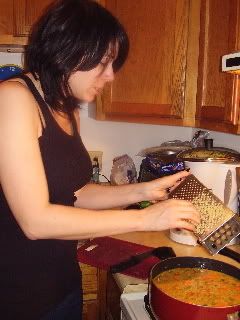 Well, yeah, she can. Alicja brought over a couple bags of groceries from our local Asian grocery in the Strip District and got right to work. She fried up some battered tofu for the vegetarians (me) and defrosted some shrimp for the meateaters (everyone else). After that was taken care of, she sauted green and yellow onions in some olive oil for a couple minutes, until translucent. While we were drinking beers and talking records, Alicja threw a can of coconut milk and a can of vegetable broth into the pot with the onions. Into that went some big ole chunks of potatoes and carrots. Those have to cook on high for probably 20 minutes. This soup turned out really well because of all the different flavors mingling together. Our favorite Memphis rocker added a couple tablespoons of curry powder, chili paste, arrow root, and freshly grated ginger. There's no fuckin' around here, its sweet, its spicy, its everything you want, served up steaming hot.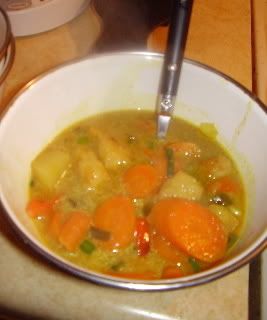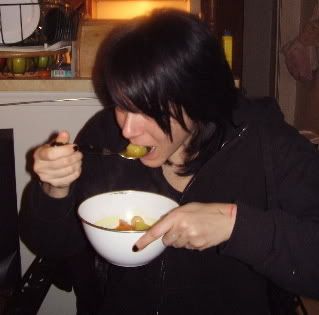 After hanging out, being dudes, and generally not doing anything except smelling this soup on the stove, we were really excited to try it. It was really excellent. I dropped a couple chunks of tofu in mine, everybody else opted for shrimp. Either way, you had everything you want in a soup. Sweet, spicy, a little creamy, and loaded with vegetables, this was a whole meal in a bowl. I always knew Memphis folks knew how to eat, but this was nowhere near the fried chicken and mashed potatoes that are southern staples. Aside from the optional shrimp, this was entirely vegan, complete with egg replacer. When you're eating this good, you don't need meat, despite what terminal boredom might tell you. A+ for Alicja, that broad knows how to cook.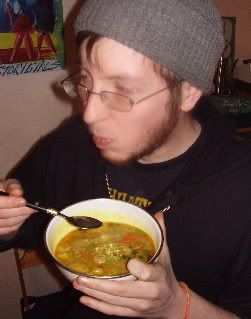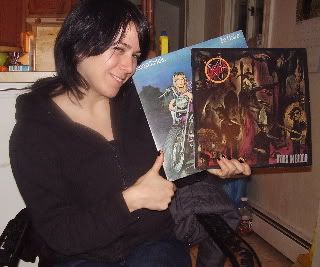 And she knows a thing or two about records too. We asked Alicja to bring over some jams to go along with her delicious soup, and she brought over some hot ones. She showed up with a
Yum Yums
record, which would've been cool but we never got around to it. As soon as she saw Steve's copy of
Slayer - Reign in Blood
she jumped up and threw that on the turntable. How many chicks do you know that would play Reign in Blood? That's the record you played because you couldn't get any chicks. I don't even have to tell you about Reign in Blood because you already loved this record when you were 15 years old. Nothing pisses off your parents quite like Slayer, and your parents are probably still not too pleased with your underachieving ass, so you should still be rocking the hell out of this record. Don't be one of those dorks that used to like this record, be a badass rock n roller that still loves Slayer. If its good enough for Alicja, its good enough for you.
I'd like to thank Alicja for coming over here and cooking. She's a cool chick, she's in some awesome bands, and she's put out some great records. So buy her merch and go see her band, they're on tour right now. Alicja was a great special guest and everyone involved appreciated her efforts very much. Thanks!
We're always looking for other guests to come cook food, play records, and get drunk with us. If that sounds like something you want to do, let us know!
-Posted by
John
.
Labels: alicja trout, black sunday, coconut curry ginger soup, lost sounds, memphis, reign in blood, river city tanlines, slayer, soup