Big Schleep the Tour Guide
NOTE: PLEASE FORGIVE OUR LAZINESS, BUT WE'RE BACK AND BETTER THAN EVER!
I was in a
band
for about four years that recently broke up. When we played our last show, our friends came in from all around to get completely wrecked and have some fun. Some of those friends had some time to kill, either from driving only a few hours to get to Pittsburgh or from being on tour and only having to get to Columbus the next day. Since I am always an entertainer at heart, I figured we could take these fine gentleman out for some of Pittsburgh's finest food and records. Because that's honestly what it's all about, right?
The first thing to do for those who have not had it (especially if you're a meat-eater) is to bring your guests to Primanti Brothers. We've covered
John-Boy's
homemade approximation of this mighty Pittsburgh calling card
before
, but this time we're getting into the real deal. Since I live five doors away, there was very little issue to hitting this place first. Joining me for this portion of the journey were: John-Boy, fresh from a delirious hangover that kept his face pressed to the table for most of the meal; Adam from
Defect Defect
, who were kind enough to play the show with us, despite 1/2 of their band camping out on my living room floor to zonk out to
Twin Peaks
(a noble pursuit, I must admit); The Pride of Buffalo, Mr. Chuck Barrels (back again as B-Town Dickie Jumbo) from
Terminal Boredom zine
(the finest punk record zine on the net); Dave Anchovies, a fellow friend and Buffalo
Big Necker
from the
Trailer Park Tornados
, and
Icki
(AKA Mark Murrmann), photographer extraordinaire and all-around dude/rocker who was on tour with Defect Defect. Here's the gang getting ready to rock. Notice John-Boy's wimpy hangover and garbage life:
I was saving myself for another stop later in the trip, so I simply grabbed a Yuengling from the bar and had a couple cigs. The out-of-towners stepped up to the plate, like Chuck B. with his corned beef and cheese:
Here's a cross-section of the finished product (thanks, Dave):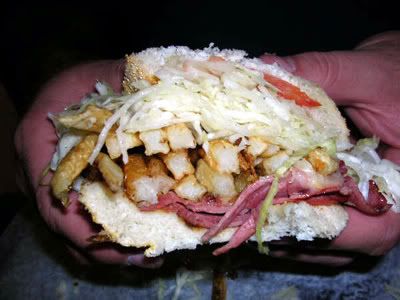 And because wimps like John-Boy can eat in filthy delicious sandwich places like the rest of us, Adam was able to grab himself one of these fancy little egg and cheese numbers: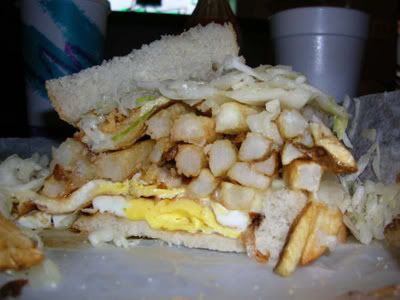 So if you're from Pittsburgh, you've seen this a million times. Understandable. But I have to show these dudes a good time, and everyone definitely was into it, especially since Rich had never experienced it. Now to move on... there's two more very important places we need to cover, the next one being:
JERRY'S RECORDS
: located on Murray Ave. in Squirrel Hill (right by plenty of restaurants, bars, bookstores, Hasidic Jews, and very few parking spaces). We rolled Dave's van over, and knowing I was with three staunch record collectors with probably thirty years combined experience under their belts, I knew this was a great idea to show people that Pittsburgh is not all Motorpsychos bar-rock horseshit and fifty days of sunshine a year. On the way, we grabbed fellow 7-incher
HONE
, and he took over as Squirrel Hill tour guide, being that he is the one who introduced me to Jerry's in the first place years ago.
I would venture to bet that Jerry's is the greatest used record store in America. While punk records can show up quite frequently when some goon sells off their stuff, I would say the crux of the Jerry's experience is getting all the records you A) never knew you wanted or needed or B) knew you had to have in order to be a well-rounded music fan. Where else am I going to records by The Band, Wilson Pickett, the Beatles, Johnny Cash, and the like for respectable prices and in decent condition? Jerry's no fool. He knows in the million (not an exaggeration from what I've seen) records he has in there, he is sitting on pure gold: hence his
auction site
(this is a great place to watch for rare soul, funk, psyche, and similar genres). Don't believe me? Well, you knobs can take a gander at this, which I assume is probably about 1/12th of Jerry's.
Now I have brought special ladies there, old friends there, and new visitors, and I would say upon walking in that this is the standard reaction:
I didn't buy anything this day, but I got to see my friends drool over nonsense, pick through assorted 90's garage-punk singles that had turned up in the last week, and generally be astounded that this place even existed. Here's HONE and Icki picking through some "NEW ROCKIN' PUNK!"
On the way out, naturally were we accosted by the infamous
Manny Theiner
, who turned down a request to cook for the blog while wearing
Juggalo
paint. This bummed me out. Moving on, we were about ready to head back to the homestead so everyone could get on the road, but I first had to get some delicious, greasy, and all-around Pittsburgh institution
Mineo's Pizza
. Raging debates surface on Pittsburgh hipster message boards about which place has the best pie in the city. Going out on a limb, I would say Mineo's would be number one for me (were it not for the dark horse:
Little's Chicago's
Deep Dish [not what you think, trust me... I will explore that in a future entry]).
I had to borrow money off Chuck Barrels since I didn't have cash on me, but he can spare 2 bones from selling off the shitty
Solid Sex Lovie Doll
singles for old Schleep. However, we were able to procure some delicious pizza which was highly enjoyed. All I can say about Mineo's (and this is breaking away from my fake-food writer persona), is just show up and eat it. Words aside from "greasy", "filthy", and "delicious" cannot describe it. I'll let the pictures do the talkin'.
I had the white because I am fancy. And possibly a closet racist. I do hate
Vinnie
and he is Italian:
Here's another one:
Note the shirt/pizza connection on Rich:
HONE tearing one up:
Dave was able to show off his two scores of the day, a Cosmic Psychos LP and another day taken off his life:
And here's your lovable host getting ready to cap off one of the most hungover days in his history. My eyebrows look great.
I don't have a record to discuss today, and for good reason... SUPPORT YOUR LOCAL RECORD STORES! Jerry's is decreasing in size next year (don't worry, Jerry is not going anywhere for awhile), and places like
Paul's
and
Brave New World
here in the city need your support. If you want every band you ever hear from now on to be either on Myspace or Sendspace, FUCK YOU. I don't want to take the money out of
Rockin' Robbie T.'s
mouth, do you? Fuck that! Go get your own records. You got three months of recommendations here. We're happy to eat the food you could be eating, but rock n' roll does not run on dreams and wishes. Get to work.
I'd like to thank all our special guests, especially Dave and Mark for helping out with some great photos. Remember to visit
Terminal Boredom
and learn something, give Icki some
photo work
, check out Dave's
band
and support both him and
Bart Hart's Big Neck Records
, and well, I'll take a beer and the
Count Five
45 with "You Must Believe Me" on it. That's it, kids. Get crackin' and go see your city!
*Posted by
Steve-O
COMING SOON ON THE SLAM: MY TRIP TO MY NEW FAVORITE HOT DOG PLACE, A REVIEW OF THE BLACK AND WHITES TWO EP'S ON SHATTERED AND DOUCHEMASTER. PLUS MORE FROM JOHN-BOY AND HONE. BIG THANGS, BABY! LATER!
Labels: buffalo, defect defect, jerry's records, mineo's pizza, primanti's, squirrel hill, terminal boredom, trailer park tornados