MAX'S UBER ALLES
The years I spent slogging through life on Pittsburgh's North Side in the early to mid-nineties were pretty good. There were tons of great records pouring out of America, Japan and France. The Rip-Offs, Teengenerate and Oblivians were still together. In walking distance of my place there were pawn shops, three decent thrift stores, a mom & pop video store that rented
Blaxploitation
, horror & porn, there were also two
White Towers
and one Stedeford's where I'm pretty sure I found a record I wanted at least once.
Sure I spent my miserable days slinging pizza with goons, most of who seemed to be named Stan (except for the dude sporting an Ozzy finger tattoo, his name was Bob). My unfortunate nights were spent holing up in an apartment to avoid being murdered by migrating North Side
Crips
. I once had the misfortune of having a gun pulled on me and spent the next year or two under the false assumption that my surely imminent demise would come from the icy cold hands of an angry black dope slinging Crip. Nowadays, I just figure that those bad times were my penance for being dumb enough to go to Art School.
However, if I'd been smart enough to check out
Max's Allegheny Tavern
I may have never left my dubious North Side digs.
Rizzo had the day off and I put in a quick "hack, hack, hack, cough, cough, cough, vomit, vomit, vomit" call off at work. We then proceeded to hit the North Side with a quick jaunt to
AIR
to check out the Black Panther exhibit (which much to my dismay had nothing to do with
Jack Kirby
or
T'challa
) but it was educational and DIY nonetheless:
After getting our social consciousness on, we were primed and pumped for Max's:
We'll let the pictures do the talking…Rizzo started with the hearty comfort of the Einlauf soup:
Then she moved on to some gravy covered Spatzle:
I plowed through a serious sauerkraut laden Dutchtown Style Kielbasa sandwich:
Although I'm not much of a dessert fan this Apple Strudel with French Vanilla ice cream was impossible to pass up:
Alright kids, now for the musical portion of our show.
You might remember Eddy Grant's big hit "Electric Avenue" from back in the 80's, that special far and away time when your parents were having coked up orgies in the backyard swimming pool and MTV, AIDS and crack were the hot new things. Well when Eddy was rocking his "one hit wonder" status in 80's, The Clash (love 'em or hate 'em) were covering "Police On My Back" from his late 60's early 70's combo the
Equals
:
It's hard to pin down the Equals mod/pop/bubblegum/rock/funk sound but suffice it to say if you don't like the Equals, I'd be hard pressed to call you a friend. Not because you have shitty musical taste but because not liking the Equals is akin to not liking fun. Germany liked 'em so much they had 13 charting singles in good old Deutschland.
FOR YOUR STUDIES: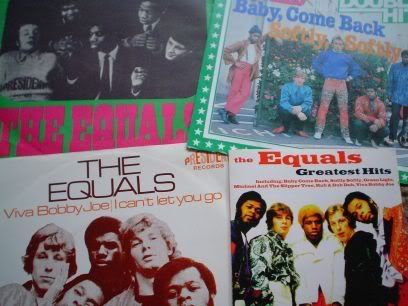 Posted by:
HONE
Labels: equals, german food, ice cream, kielbasa, max's allegheny tavern, north side, pittsburgh, spatzle, strudel