Here's to the Ladies
You're going through life trying to be as drunk, fat, stupid, and lazy as you possibly can. You're in your mid-20's and all your shirts have band logos on them, and they haven't been washed in weeks. You have no idea how to clean a bathroom. Left to your own devices, you'd be homeless and living under a bridge in about 48 hours. The only reason that you're even still alive is because some chick is kind enough to save you from your own devices.
For my first 19 years of life my mother ran my life. My goal was to try to get away with as much shitbaggery as I could, and her goal was to not let me get away with any of it. That same theme has continued, even as I've moved into several different houses and apartments with several other shitbags and luckily for all of us, several good ladies.
Last Sunday Steve and I were getting psyched for the upcoming Steeler game. We made some calls and got a few good looking broads and mustachioed dudes to come over for a little get together. Left to our own devices, we would've had plenty of Pabst Blue Ribbon -- and nothing else. The legendary Big Suzz was able to save us from our own devices and put together a great spread for all of us to enjoy. She wasn't able to do much about Ben Roethlisberger's turnovers though, unfortunately.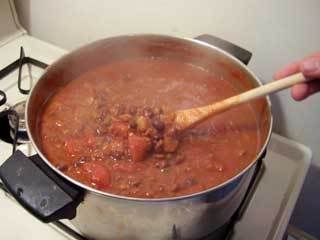 Suzi started off by making some excellent, and very spicy, vegetarian chili. She dropped some garlic, onions, and Morningstar ground meat into hot oil. After a few minutes, she added plenty of black beans, hot peppers, diced tomatoes, and lots and lots of chili powder and cumin. After about 3 hours of stirring and simmering and a few secret naps, the chili was ready. We had big plans for chili dogs at halftime.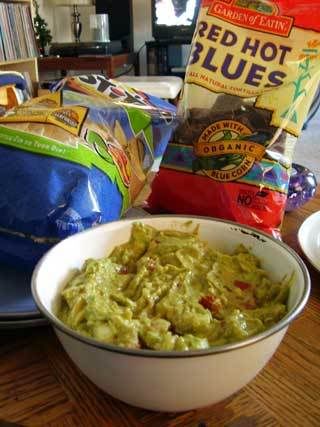 While the chili was relaxing over low heat, Suzz put together some of her famous guacamole. She does everything by hand, then cranks it up a little with some super hot peppers, cock sauce and spices. This is the best guacamole you'll ever eat, or even read about on food and music blogs. One of our guests confessed that he would only eat guacamole if Suzi made it, no restaurant or grocery store could ever come close.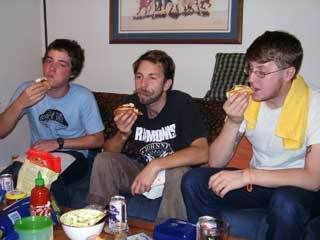 Our drinking and laziness continued, and somehow more and more food kept appearing in front of us. Suzi whipped up about 3 pounds worth of
cheese quesadillas
, which we topped with either guacamole or chili. Finally we gorged ourselves with hot dogs, available in both cruelty and cruelty-free varieties. As a salute to overindulgence, we topped these with not only chili, but also guacamole and sour cream. There comes a point in every punk rock shitbag's life where he just starts topping hot dogs with every ingredient available to him. That moment usually turns out really well, it certainly did for us.
Not only do the ladies in our pathetic lives make sure we've got plenty of spicy food available for football games, they also run some pretty awesome bands. The
River City Tanlines
out of Memphis, TN, are a perfect example. These guys came to Pittsburgh last winter to play a poorly attended show, then hung out with all of us rock n roll jag offs. The two fellas in the band fit in perfectly with us, we watched football, drank beers, and schemed on chicks. The two of them are southern fried shitbags of the highest order, and somehow, Alicja Trout, formerly of the
Lost Sounds
, puts up with them. The Tanlines have a new
Dirtnap
LP called
I'm Your Negative
which picks up with their brand of Memphis garage punk right where their
7"s
left off.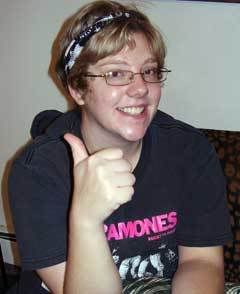 So look around at your life, your band, and your apartment. Everything that's wrong with it is probably your fault. Everything that's right about anything you have is because some girl did it for you. You're not gonna clean up, sober up, or get your life together, so you better thank your lucky stars that there are girls who take care of guys like us.
Thanks ladies!
Posted by
John
.
Labels: chili, guacamole, quesadillas, river city tanlines, vegetarian