Stolen Pierogies Just Taste Better
When I was trying to decide what food to cook and what record to review for you guys, I couldn't come up with anything. I had plenty of ideas, but none of them were working out. I already wrote about my favorite thing in the world --
being sleazy
, so I had nothing to talk about.
Then I remembered that I could just steal all my ideas off other people. I'm a white male, and if there's one thing we know how to do, its steal. First we stole America from the Indians. Then we populated it with a bunch of laborers that we stole from Africa. Then a couple hundred years went by, and we white males started stealing presidential elections from each other. So in the grand scheme of things, my theft of a recipe isn't too big of a deal.
Earlier this summer Steve, Suzi, and I went to a potluck barbeque in the half-college half-ghetto neighborhood of South Oakland. The Pittsburgh punx were all there, and they all brought food. Amidst the sea of black t-shirts, I spotted some buffalo pierogies that our friend
Paul
brought. I slammed a bunch of them then got drunk and forgot about them until today. So with my hazy memory of buffalo pierogies, and the help of google, I decided to steal the recipe and recreate them.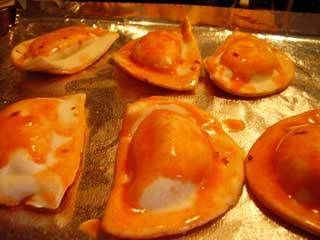 Homemade pierogies are great, but they're way too much work for a Monday afternoon lunch. So you can feel free to use some frozen Mrs. T's pierogies, I used potato and onion. Put some olive oil, hot sauce, and cayenne pepper in a bowl and mix them all up. Use whatever kind of hot sauce you want, I used Frank's Red Hot. Toss the pierogies in the bowl one at a time, still frozen, and get them covered with the oil and hot sauce mixture. Make sure you spray a baking sheet with Pam, because these things will definetly stick. Put the pierogies on the baking sheet and give 'em 20 minutes in the oven. Flip them over after ten minutes, and add more sauce if you want, I did.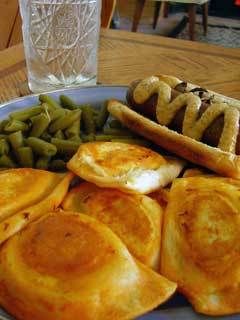 These pierogies are gonna come out of the oven a little crispy on the outside, with a nice soft mashed potato inside, just the way a traditional pierogie should taste. But a traditional pierogie never took a bath in hot sauce and oil. These things have some punch to 'em, and you don't even notice it until after the first one. After two or three of these you'll be wiping the sweat out of your eyes with that Ramones t-shirt that your girlfriend told you not to wear anymore. Who could ever argue with combining pierogies and buffalo wings? Definetly not me, especially when you pair them with a
vegetarian bratwurst
and some green beans. These pierogies were definetly at least as good as I barely remember them to be.
Not only am I gonna steal my food idea for this article, I'm gonna steal my music idea too. At the same backyard barbeque where I first discovered buffalo pierogies, I also rediscovered some great music. Local ragers
Pyramid Scheme
opened the show, but most of the bullet belted punk rockers were there to see Oakland, California's
Annihilation Time
. The long haired punk rockers probably all already know about this band, but I need to make sure that everybody gets into these guys. They're usually described as Black Flag meets Black Sabbath. If you're gonna combine two bands that go as well together as buffalo wings and pierogies, then Annihilation Time are the buffalo pierogies of punk rock. You want riffs? They've got it. Tasty licks? They've got that too. They're also pretty into drugs and chicks from Pittsburgh, so they've got all their bases covered. The aptly titled second LP,
II
, is out on
Six Weeks Records
. They only pressed a thousand of 'em, so make sure you pick one up before they sell out, which may have already happened.
When you take two things that are great in their own right and combine them to make something greater than the sum of their parts, you know you've got a winner. Buffalo wings are great, pierogies are too, but together they are unstoppable. The same goes for ass kicking hardcore combined with stoner riffs and long hair. You guys should keep combining two good things to make one great thing, and I'll steal the ideas and write about them three months later.
- Posted by
John
.
Labels: annihilation time, buffalo sauce, pierogies