Pittsburgh rules!
Yesterday was the first regular season game of our beloved
Pittsburgh Steelers
. John-Boy and I took a trip across the river to inspect the whos, wheres, and whats of the tailgating community these days. It turns out Pittsburgh's football fans have also come up with some excellent culinary ideas that will please any palate.
First off, you need some
Steelers gear
if you're going to attempt to talk to anyone. John-Boy's
Persuaders
t-shirt caused someone to look at us and say "Are you going to put a negative slant on tailgating?" Jesus fucking Christ, lady. I know we're degenerates and all, but we still like Steelers football. Luckily, I had my shirt .and was ready to go. However, I was not as ready as I thought for the endless avalanche of food and booze that was soon pushed upon me.
As soon as we walked up to the parking lot, we walked over to the first RV we could find with a buffet table setup outside and large coolers. This indicated to us that these people not only had food and beer, but most likely plenty of it. Anyway, we sauntered over, and I put John-Boy on the case in talking to folks first, as I was surveying the scene and mentally mapping out a route for us to take through the parking lots. We were greeted by a woman named Jenny (who was really nice and had a sweet rack, too). She was with three toothless weirdos who were cooking hot sausage sandwiches with meatballs. As a rule, I generally eat hot sausage at any chance I can get. She was kind enough to offer me one after we explained what we were doing, and also set us up with our
first beers
of the afternoon, because they had a shitload of it. We thanked her and moved on, but I definitely got the impression she was into ol' Schleep-O. Sweet.
Moving on down the line, we came to an extremely impressive tailgate featuring the following: a giant inflatable Steeler on top of a painted Steelers van with a keg system run through it; a deep-fryer doing not only wings, but
provolone sticks, fried shrimp, and anything else you could think of
; a large grill with steaks, chops, wings, etc., the list goes on and on. We started rapping with the folks milling around and were given a guided tour of everything and offered, once again, beers and food. It was too crowded for us to get around the grill, but I didn't want to blow my wad so quick in the preceedings, stomach-wise. We happily sampled a beer and explained this website to them. Everyone either though we were crazy or made dirty jokes about the name.
We got dragged by
these people
(a woman who wanted to be indentified only as Lynn, and some other lady who kept talking about her son's college golf career) to another tailgate run by a dude named Hector. Hector was really nice and had some good-looking stuff. Check this out:
I definitely took part in some of that. Hector had a keg, and by now I figure we had hit three different tables and had four or five beers. So as we resolved to keep being as polite and nice as possible, we were slowly getting more full and more drunk as things went along (which would probably explain my sweaty, drunken, horrible hair in EVERY SINGLE PICTURE).
Moving on down the lot, we met a dude named Tim. Tim was nice enough to show us the spread at his vehicle, and he had some stuff that was actually vegetarian for John-Boy. I enjoyed a great pulled pork sandwich, some wings, pizza rolls, and plenty of Iron City:
Tim also had
desserts
for those with a sweet tooth (AKA: NOT ME), Here's a shot of Tim's primary stuff. Very classy. We sampled the dips, cheese, etc. There were also stellar meatballs at this table. And this one was extremely clean, which I always find to be a plus:
By now we'd scoured a lot of the parking lot.
PBC
was giving out free beer, so we had some of those. All you had to do was give them a fake email and get a wristband. They had
Augustiner
, which I never drink, but I figured I'd sample as much as I possibly could. By now we were just being handed beers, which then went directly into my backpack. Things were heating up and it was getting more and more fun as we walked. Game time was closing in, so we tried to make a final run through both lots, so as not to miss anything.
Moving along, we ran into the grandfather of all tailgates. I say this because these
very nice ladies
and
gentleman
had an RV painted black and gold the size of a fucking
PAT bus
. This place had the largest
bar
that didn't employ a CO2 system. The guy was very nice, but he didn't believe for a second that either of us were 21, he then ID'ed us and made us go eat food before we could have any beer. Can't say I blame him. We look like we have a combined age of 28 between the two of us. However, he did hook me up with an awesome
steak sandwich
. John-Boy went straight to the
pasta salad and vegetables
.
After crossing through the lots (more pictures can be found
HERE
[for food only] and
HERE
[for everything]), the game got closer and closer, and eventually we had to split so we could watch it on TV (tickets ain't cheap). As I started to make the walk back downtown for the bus, I could only reflect on how much Pittsburgh loves its football and takes even the biggest party very seriously. Quite inspiring. I'll leave off the food portion with this, our only attempt at a Steelers art photo (where's
Icki
when you need him?):
All in all, a beautiful Pittsburgh afternoon. We went on to beat the
Dolphins
28-17 that night. Go Steelers!
Pittsburgh is known for a lot of things. One that most in the know recognize is our excellent hardcore punk scene. They say if you do something, do it well. This will most likely be the outstanding DIY underground achievement Pittsburgh is known for (the
Swamp Rats
notwithstanding). New bands like
Brain Handle
,
Warzone Womyn
,
FLAK
, and Kim Phuc are all recording, touring, putting out records, and playing lots of shows. But the most well-known and most respected band in the current Pittsburgh DIY hardcore scene would have to be veterans
Caustic Christ
.
Caustic Christ arose from the ashes of
Aus Rotten
in 2000-2001. They've been a fixture here in the Pittsburgh punk scene ever since. While Aus Rotten focused on a heavier-than-the-norm UK peace-punk style similar, in my opinion, to a band like
Crucifix
,
Discharge
, or
Rudimentary Peni
, Caustic Christ has taken classic American hardcore and whittled it down to some of the most crushing tunes ever put to wax. They've released most of their records on
Havoc Rex
, aside from two splits (one with Pittsburgh's Intense Youth and one with Philadelphia's
R.A.M.B.O.
).
With quite an extensive discography so far (an LP/CD, three EP's, two splits), Havoc has now recently released what I consider to be their best record yet: the LP/CD "Lycanthropy". I was lucky enough to catch the record release show here in town with touring punks
Direct Control
and
Strung Up
. Needless to say, it was a pretty vicious display of pummelling hardcore, but Caustic Christ stole the show.
Caustic Christ has truly come into their own on this LP. The most obvious reason is easily heard in the first track "The Caustic Curse". This mid-paced pounder is easily my favorite tune of theirs live and simply grinds along with throaty vocals from Eric Good explaining his plight of turning into a werewolf. I, for one, relish lyrics like this in hardcore. It's always nice to turn away from the evils of young teenage punks everywhere sometimes and hear a band play something completely wacked and deeply personal. The stops and starts for short instrumental breaks in the tune are great to rage along to in your living room.
Moving along, the record picks up even more steam with a recognizable tune from their recent out-of-print tour EP
"Doesn't Anyone Want to Impress Jodie Foster Anymore?"
After that, seven more standouts until the final instrumental. A nice surprise, in fact, and when coupled with the guitar work of Bill Chamberlain on this record (hell, the rhythm section of Corey and Greg is unstoppable as well, I shouldn't be splitting hairs here) you get a driving record that can send chills through you when played at the proper volume and with the right mindset.
You should be thinking:
Poison Idea
,
Negative Approach
,
Flipper
(all three of whom I've seen them cover), bands that weren't afraid to stick to the tried-and-true of what makes hardcore great but weren't afraid to bring something new to the table at the same time. I think Caustic Christ's most unique feature is the attitude and feeling you get from these guys when they play, especially from the lyrics. They're more personal than most, and when I say that, I mean, they will sing about punching mirrors until they collapse on the floor because they can't handle society when your band is in your cousin's van talking about smashing the state and rolling your windows up in the ghetto on tour. They know what hardcore punk is supposed to be about. They're not here to kowtow to the current trends. They will show up in their van, set up, tear the place apart, and you'll know what you've seen means something. You've seen a band full of four dudes who turned up all the way, stared you in the face, and condemned your world right in front of you.
I can't say enough great things about this band. They define Pittsburgh punk today, they're still going strong, and they still care enough to book great HC shows, give young bands a chance, and pound you into the dirt if you let them. I can also say they're all extremely great guys, which is a compliment you normally reserve for shitty bands; not in this case.
Pick the record up from the band on their upcoming European tour (if you're out that way in November), or go here to the
Havoc webstore
. There is a
limited pressing of 300
of these on red vinyl with screened covers of a wolf with blood-spatters on it. Havoc says 150 are available for mailorder, while us lucky folks in Pittsburgh got first crack at the other 150. I picked one of the limited ones up at the release show and it looks and sounds great (note: The limited version is priced at $15.00 through Havoc, but the
normal version
with different cover is set at the normal price of $9.00), but I would assume it's probably long gone by now unless you act fast.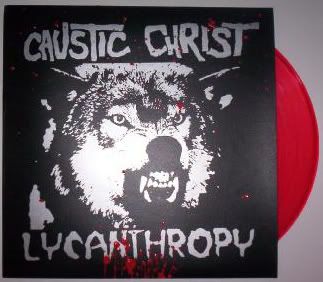 Pittsburgh can be defined by many terms, but I like this: we're no bullshit. We love the Steelers. We love Caustic Christ. Watch out, or we'll roll right over you. A friend of mine once said to some wack-ass hasbeen
Homestead Records
character: "Bow down to Pittsburgh hardcore punk, washed-up indie rock losers". He was right. I'm sure if
Joey Porter
knew what that meant, he'd say the same.
*Posted by
Steve-O
Labels: BBQ, beer, caustic christ, grill, hardcore, havoc records, iron city, meatballs, pittsburgh, steelers, wings