Home Cookin' from Both Homes: A Labor Day Special
It's nice to get home and see the folks whenever possible once you've been out of the house for a few years. But while you can not only enjoy yourself at home catching up and spending time with some admittedly badass folks, one should never overlook the comforts you can enjoy on your own when you return. This September 2nd-4th weekend coincided with not only Labor Day, but also Momma A's birthday. So when I got to my lovely old home of
Glen Dale, West Virginia
on Saturday evening, I knew I was in for great food, drink, and possible shenanigans.
Upon arriving, I was greeted with the excellent surprise of my old man "Johnny Rando"'s marinated flank steak. A fresh piece of flank steak marinated just right definitely can hit the spot over the T-bones and Porterhouses one can purchase at your local butcher shop. My old man has perfected his craft over a number of years, and I must say I can rarely find a leaner, more zesty and flavorful cut of meat.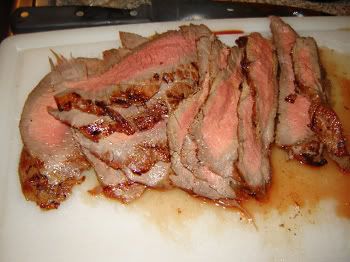 Top this off with sauteed portabella mushrooms, seasoned slightly too salty for my taste (but hey, nobody's perfect, I rarely salt my food) and the old man's patented homemade Caesar salad.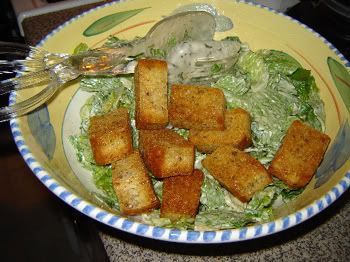 This salad has gone through remarkable recipe overhauls in the years past. One suitable addition I found was the salty combination of either fresh diced anchovies or anchovy paste to the dressing. The dressing is always homemade and can either take more a more vinagrette consistency, or in tonight's case, a more creamy, thick texture. I find both to be equally suitable. But tonight was nice, since our other side dish was a little more dry.
Top this off with a glass of merlot (my wine of choice for this meal is cabernet sauvignon, but unfortunately my parents switched over after years of CS consumption), and you have an excellent well-rounded meal which will leave you quite full and ready to commiserate with your family about nonsense such as who's married, who's dead, who just got in a car accident, and what the neighbors think of us (addendum: our family is known as "those people"... can't complain about that).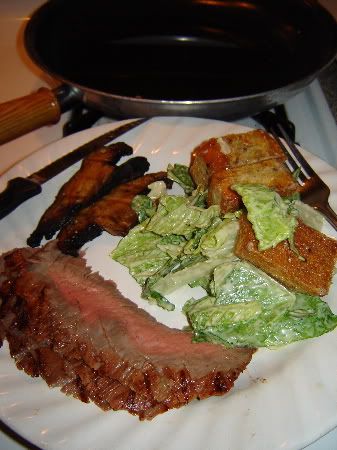 The next day, your BBQ can move into full effect.
Eventually, things start to get moving since company is coming. Parents can generally throw excellent low-key BBQ's, mostly because your tunes are going to be something more along the lines of
Leonard Cohen
instead of
Career Suicide
, and you may be having wine with lawyers and teachers and your parents instead of
Jacob's Best
with the rest of your hoodlum friends; but either is fine by me in this setting.
To start things off, wine and cheese... I know what you're thinking: "This isn't a BBQ, Steve, you're an asshole." You'd be half-right. But anway, we sampled an excellent merlot while I alternated between
Rolling Rock
pony bottles [a favorite of the old man's] and
Pabst
. Nothing wrong with that. Andersons aren't little bitches. But we had a fine assortment of cheeses as the afternoon got underway, including muenster, a sharp cheddar, some excellent brie, and Swiss (if memory serves). I was chilling extremely hard and rapping with the old man and other adults, and eventually the conversation turned to the politics of "independent radio" (as in shit like Pittsburgh's WYEP vs. a real indie station like NY/NJ's
WFMU
),
Tom Waits
, Sonic Youth, the merits of Bob Dylan (talking about this with a bunch of people over 45... no fun.) in this day and age, and surprisingly,
"Bummer Bitch" by Freestone
. I think enough people know this tune, so I won't go into too many specifics, but we'll just make sure it's known that this became famous from
KBD#2
, it's classic snotty punk with one of the world's catchiest choruses, and it will offend any square at any party, no matter where you are. Here's a link to download the
tune
.
Right before our meal was served, a drunken Schleep-O was cajoled by drunken adults to download and produce the song "Bummer Bitch" on the family
Mac
. With my folks moving into the 20th century and finally getting cable internet, it was a snap. However, I don't know who among us would want to sit there in the den as that song played, so I hit play and left the room. The adults shuffled out about 1:30 later, and the old man says "Keep that song on the computer." "Bummer Bitch" is now his only iTunes file. I'm waiting for the day when he says that to Big Momma. I will laugh.
Moving back onto the food. Momma A and Johnny Rando outdid themselves with a very nice spread.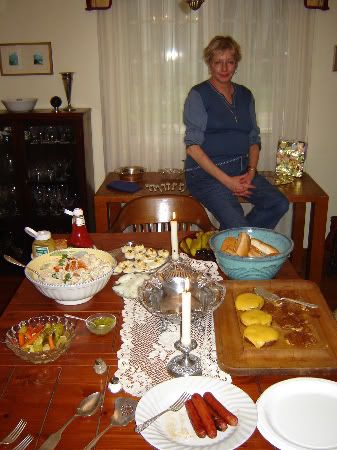 In addition to your burgers and dogs, Momma A had whipped up her famous potato salad. There were also deviled eggs (which were out of this world), a fine giardiniera vegetable salad, and a homemade relish tray. Fried chicken was discussed but ultimately not picked up by a certain bum son who got too drunk to drive by 1 PM. Note to readers: Wheeling, WV has an excellent fried chicken procedure:
pressure-cooked fried chicken
. All this entails is covering your fryer with a large screw-on lid, a technique normally employed by mad scientists or something along those lines. As a nogood teenage punk, I worked as a butcher for four years. One of my other duties was preparing fresh pressure-cooked chicken in the back of the shop. Look into this. I'm sure Southerners have seen this and slammed it. But anyway, Yankees, let's get back to the point. The folks did a fine job, and I thank and commend them (especially for sending me back with a bottle of vino, case of Pabst, two packs of ciggies, and plenty of leftovers.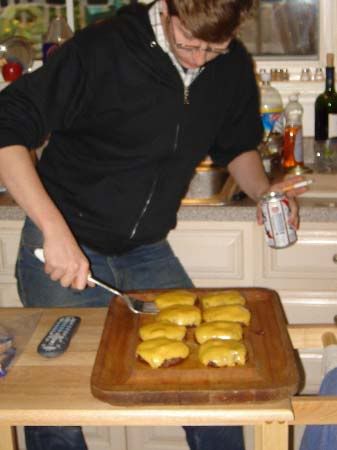 Finally, it's time to head back to the
Big City
where I get some much needed pipes and schleep. Waking up on Labor Day is usually pretty sweet. You've generally had a relaxing weekend, and you're probably still full of food. Well, I was, and we decided to have another cookout up here in the city.
Big Suzz and John-Boy helped take part in the preparations today. The first order of business was Suzz was going to make her exquisite guacamole. However, the grocer bummed her out with the quality of their avocados, so Suzz decided to make avocado salad. This was a delightful treat and very simple to prepare. With just some tomato, onion, avocado, a little oil, and some spices you can create a heart-healthy salad that can fill you up and make you forget about dipping things ever again.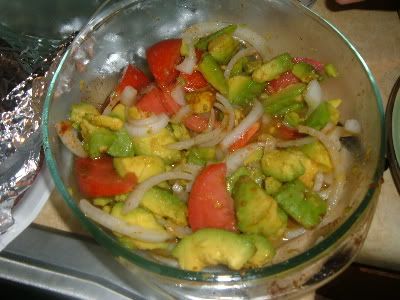 Up next, we had plenty of veggie burgers, REAL burgers (vegetarians can suck it today!), and veggie dogs for the grill. But I had an idea to do them one better and marinated some eggplant we picked up from the Farmer's Market. After about half an hour, these were ready to be tossed on the grill with everything else. So we had something for everyone, which is what this blog is all about, isn't it?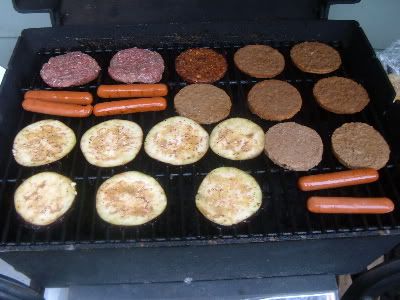 The beauty of this is, after grilling the eggplant (which was marinated with olive oil, vinegar, and spices), it was put ON BURGERS.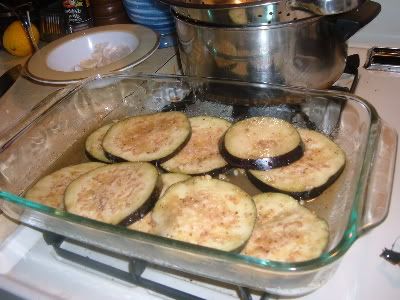 I did my burger up with provolone, eggplant, sliced onion, tomato, and Momma A's homemade tomato ketchup (the only kethcup I'll ever eat). Quite a delicious burger, and hopefully, first of its kind. Leftover potato salad also got knocked out of the park and back into our stomachs.
So what jams do you rock at the BBQ? We didn't have a million people there, so it was a low-key chill affair in the afternoon. What record just came out recently that would work just right in this context? Well, if you said
Reigning Sound's "Live at Goner Records"
, I'd give you a burger and maybe even a beer.
So far we've written about stuff that people who are not indoctrinated to the rock n' roll lifestyle should be listening to for those certain situations in life. Want some babes in striped shirts?
Exploding Hearts
. Need solid rock n' soul?
Deadly Snakes
. Need dumb punk FUN?
Sneaky Pinks
. Now here's the question... you wanna rock out with your people, hear some of America's best songwriting, great covers, a stellar recording, and just an all-around perfect band?
Reigning Sound
.
Eric Friedl's
Goner Records
has dropped a few stellar records in our laps over the past year, and this record and the
Knaughty Knights 7"
are at the top of the pile for me. From the choice covers of Sam the Sham and Carl Perkins to the souped-up originals and touching ballads, we get an excellent setlist that covers all the Reigning Sound's bases, even down to something like "I"m So Thankful" from "Break Up, Break Down" (most of the vinyl copies of this were damaged in a flood, I don't even have one!). Every song is a killer, even "Two Thieves" (Greg's song from the
Compulsive Gamblers "Crystal Gazing Luck Amazing" LP
... another gem)which is cut short in the middle due to an electrical problem. And while this band has their praises sung all over the net and in print, when there is a perfect BBQ record (not
Mark Sultan
, ya mutts), you rock it and you tell everyone about it. Pick this up from Goner, and seek out the other Reigning Sound releases on labels like
In The Red
,
Slovenly
,
Norton
, and
Sympathy
. Reigning Sound will continue to be the one band in my head that everyone can get together and dig on, and this is a great introduction if you're not sure what to pick up first.
Just to tie this all together, here's a picture taken by yours truly of your man Big Greg C. destroying a hot dog here in our lovely city at the
Original Hot Dog Shop
.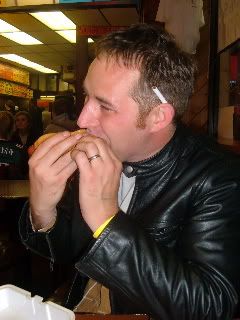 *Posted by
Steve-O
Coming soon from Schleep-O: STEELERS OPENING DAY AND THE BRAND-NEW CAUSTIC CHRIST 12" ON HAVOC REX!(PITTSBURGH RULES!); HIPSHAKES, SOVIET VALVES, AND TRANZMITORS EP'S; MORE FROM HONE AND JOHN-BOY; AND MORE FOOD, FUN, BABES, RECORDS, AND FEELIN' GOOD!
Labels: beer, burger, caesar salad, cheese, flank steak, goner records, guacamole, reigning sound, west virginia, wine