Welcome to Pittsburgh, let's eat!
I've lived in Pittsburgh my entire life. We're a city of 300,000 that has been going downhill since the mid 70's. But even though our steel mills closed, we've still got things going for us. We've got such great universities and hospitals that George Bush calls us "knowledge town." Anti-Flag calls our city home, our city calls Anti-Flag idiots.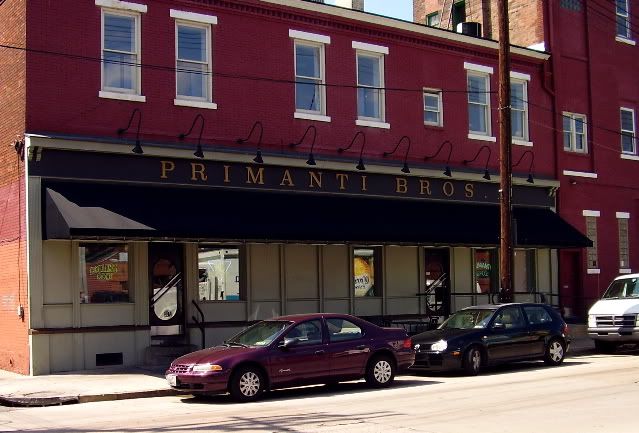 Our city knows how to eat. We've got hundreds of bars and restaraunts in my South Side neighborhood alone. One of those restaraunts is a Pittsburgh institution - Primanti Brothers. They've been serving up sandwiches, topped with fries and cole slaw, for as long as I can remember. Nothing tops off a night out like a cheap, messy sandwich that I can stumble home from after I finish it.
But I don't have a job, and I didn't go out drinking today. I don't really go anywhere. So I'm gonna make this sandwich myself, with my records playing in the background, in my city.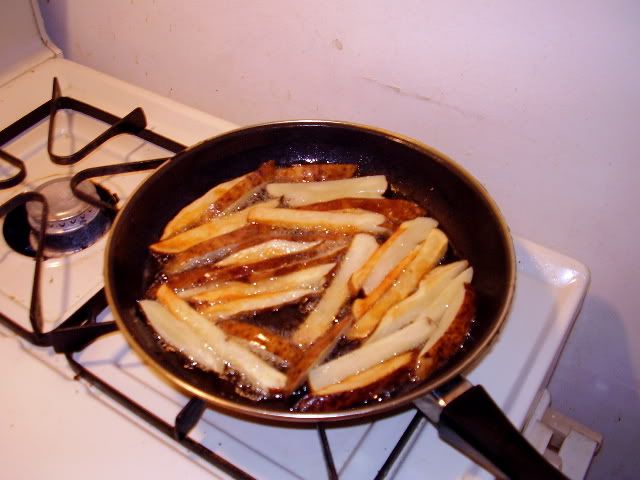 I'm gonna start off by heating up more than a little oil in a pan. Slice up some potatoes and drop them in. I could've gotten some Ore Ida french fries and taken the easy way out, but for once in my life, I'm not gonna take the easy way out. Fry up the potatoes and be a punk rocker who doesn't count calories. Keep the fries moving and slice up some good italian bread, get some cole slaw out of your fridge, and cut a few tomato slices.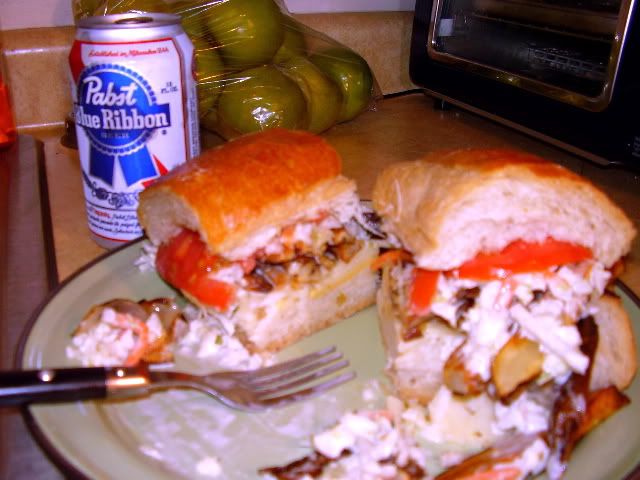 This sandwich is usually consumed by drunken idiots who want meat and grease. I'm fine with grease, but I haven't eaten meat in a couple years, so I'll make this one with cheese. I threw on some provolone, pepper jack, and good ole American cheese. Layer those on the bread, then put your homemade fries on top of that. Spread cole slaw on top of the fries, and tomato slices on top of that. Sauteed onion is optional, but I went for it anyway. As you can see, this is a giant sandwich, and its gonna be messy.
This is a meal for a guy. Don't tell your girlfriend you ate this sandwich. Don't even tell her you read about it on the internet. You don't even have a girlfriend anyway. So to hell with the ladies, we're eating guy food right now. And I needed to listen to "guy records" to properly indulge myself.
Marvin Gaye is one of my all time top favorite guys. This guy does it all. He recorded great pop songs, hot soul jams, and between the sheets classics. We're all punks around here, and even though Marvin never wrote punk songs, we'd get along with him just fine. This guy lived in a van doing blow every day in Hawaii. He sang "Let's Get It On" to a 16 year old girl, then married her (he was in his 30's at the time). Marvin bought his father a gun "for protection," and we all know how that ended up. Yep, Marvin Gaye is punk as fuck. Your parents played his records and had filthy sex every day when they were your age. Your parents were probably a lot cooler than you will ever be.
If Marvin Gaye were alive I'd bring him to Pittsburgh. We'd slam giant, silly sandwiches, then go get laid by girls that would never want anything to do with filthy, young, punk rockers like myself.
Pittsburgh is the city of champions. We win Super Bowls and eat french fries on sandwiches. You'd love it here.
Posted by:
-
John
Labels: marvin gaye, pittsburgh, primanti's, vegetarian